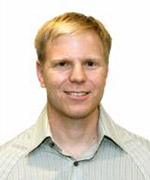 A minimally invasive approach that delivers cancer-killing radiation directly to tumors appears effective in patients whose breast cancer has spread to the liver.
Northwestern Medicine physicians tested radioembolization, a method in which radioactive particles are selectively delivered to a tumor through the bloodstream, as a means of last resort for patients whose breast cancer had metastasized to the liver and was resistant to chemotherapy.
"This is an emerging therapy in patients with no other treatment options," said Robert Lewandowski, MD, associate professor of Radiology. "We were able to demonstrate that radioembolization with yttrium-90 (Y-90) was safe, stopped disease progression in 98.5 percent of our tested population and preserved quality of life."
The preliminary findings were recently presented at the Society of Interventional Radiology's 39th Annual Scientific Meeting in San Diego.
In the largest study of its kind, Lewandowski and colleagues reviewed treatment outcomes of 75 women (ages 26-82) with chemotherapy-resistant breast cancer liver metastases which were too large or too numerous to treat with other therapies. While not a cure, the treatment reduced tumor size by at least 30 percent in a third of patients.
An estimated 235,000 new cases of invasive breast cancer are diagnosed each year in America. Of these, approximately half who develop metastatic disease will have cancer spread to the liver, said Lewandowski, a member of the Robert H. Lurie Comprehensive Cancer Center of Northwestern University.
Currently, patients are considered for Y-90 radioembolization only when they have no other treatment options, but Lewandowski believes further evaluation is warranted.
"Of particular interest would be employing radioembolization earlier in the disease course, before all chemotherapy options have been exhausted," he said. "There is also much interest in combining chemotherapy and radioembolization."