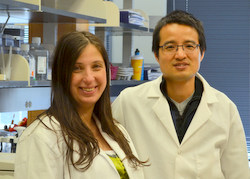 Scientists have discovered a novel regulatory role for LRRK2, one of the most common genetic factors associated with Parkinson's disease (PD).
A team of international collaborators led by Loukia Parisiadou, PhD, research assistant professor of Radiation Oncology, revealed how mutated versions of the protein LRRK2 (encoded by the gene PARK8) alter the way in which brain cells function and ultimately die.
"We now have substantial evidence that LRRK2 controls dopamine receptor activation in the part of the brain where degeneration in PD occurs," said Parisiadou. "We also found that inhibiting this pathway could potentially alter the function of striatal projection neurons (SPNs), which help coordinate body movement."
The findings were recently published in Nature Neuroscience. Coauthors include members of the National Institutes on Aging (NIA). Collaborators include David Gius, MD, PhD, professor of Radiation Oncology.
The scientists demonstrated that LRRK2 directs a specific kinase (PKA) in the neurons. When the protein is mutated, it begins a cascade of events that can cause the death of nerve cells. By inhibiting these mutated proteins, cell death could be prevented.
"Before we are in a position to use this knowledge to develop treatments, we need to better understand the functional role of LRRK2, particularly in neurons," Parisiadou said. "Our findings provide a basis for further exploration of the mechanism underlying the LRRK2-mediated development of Parkinson's disease."
In light of LRRK2's impact on PKA signaling, Parisiadou will attempt to uncover the potential role that LRRK2 plays in SPNs in response to dopamine depletion. The belief is that LRRK2 mutations might underlie a type of dopamine dysfunction in PD.
"It will be a great challenge to develop PKA inhibitors that selectively target the striatal neurons. Although a long way off, these findings offer a promising route for development of novel therapies and new treatments for Parkinson's disease," Parisiadou said.
The study was supported by the intramural research programs of the NIA and the National Institute of Alcohol Abuse and Alcoholism.