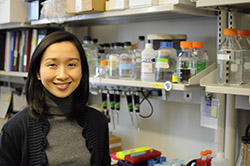 The Epstein-Barr virus (EBV) has been associated with certain cancers, but the mechanisms of how the virus causes tumor growth is not yet understood.
Fascinated by the relationship between viral infection and cancer development, Kamonwan "Pear" Fish studies how a viral protein from EBV can disrupt cell function and speed up tumor growth. Fish, a PhD/MPH student in the Walter S. and Lucienne Driskill Graduate Training Program in Life Sciences, works in the lab of Richard M. Longnecker, PhD, Dan and Bertha Spear Research Professor, professor of Microbiology-Immunology and a member of the Robert H. Lurie Comprehensive Cancer Center of Northwestern University.
Her research was recently published in Blood.
The Longnecker lab developed a mouse model to look at how one of the EBV viral proteins increases the activity of an oncogene, a gene that causes cancer. When there is an increase in expression of this type of gene, it leads to a faster multiplication of cells, which may turn into cancer cells.
"This model allows us to look at the biology of the virus and how it interacts with the host. We focus on studying one of the viral proteins and how it cooperates with a human oncogene," explained Fish.
She observed how fast cells replicate in the absence and presence of the viral protein. She found that the protein and the oncogene together drive cell proliferation and contribute to early onset of a type of cancer called Burkitt lymphoma.
EBV infection can drive proliferation of infected cells. In healthy individuals the immune system can prevent uncontrolled cell replication caused by EBV. When people have compromised immune systems, such as patients infected with HIV or transplant patients who undergo immunosuppressive therapy, they lose the ability to regulate the expression of EBV proteins and, together with activation of oncogenes, can develop cancer.
"This particular viral protein is interesting because when it's expressed by itself doesn't cause much of a problem," she said. "But when there is an increased activity of oncogene, they are like partners in crime and together create very fast tumor growth."
This viral protein has been found in a number of EBV-associated cancers and Fish believes that this protein, when paired with different oncogenes, may cause different effects in different cancer types.
Moving forward, Fish would like to understand how this protein helps degrade the tumor suppressor and through her research hopes to figure out how to target this viral protein in EBV-associated cancer.
"If we could inhibit or intercept how the virus disrupts the cell physiology, then we would be able to find some novel target that could specifically treat EBV-associated malignances or cancers," she said.