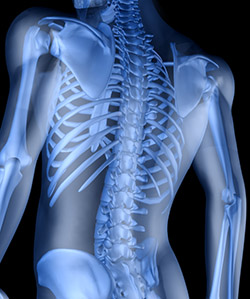 Northwestern Medicine physician-scientists are providing new evidence to support the increased use of minimally invasive (MI) back surgery.
The group of neurosurgeons found that normal spinal anatomy may remain largely intact when using an MI approach to alleviate pain caused by pinched nerves in the lumbar region.
"We found that following surgery there is significantly less slipping in the spine at the site of the operation," said first author Zachary Smith, MD, assistant professor in Neurological Surgery. "Abnormal motion can lead to bones sliding on top of each other and can even lead to further surgery down the line. Traditional approaches are significantly more destabilizing and can injure the ligaments and joints."
The study also revealed that by using MI decompression, range of motion was increased, and lateral bending and axial rotation in the back were only affected on the surgical side of the body. Smith collaborated with leading spine biomechanics researchers including Avinash Patwardhan, PhD, director of the Musculoskeletal Biomechanics Laboratory at Loyola University Chicago Stritch School of Medicine.
The findings were recently published in PLOS ONE.
Lumbar spinal stenosis – the narrowing of the spinal canal – is a common cause of low back and leg pain that can occur due to the normal effects of aging. The American Academy of Orthopaedic Surgeons reports that degenerative changes of the spine are seen in up to 95 percent of people by the age of 50, though spinal stenosis most often occurs in individuals older than 60. Non-surgical approaches can relieve symptoms and a decompression surgery is considered elective for those patients experiencing significant quality of life issues.
Although MI lumbar decompression is fairly common, its impact on spinal biomechanics remains poorly understood. This is in part due to the difficulty in evaluating the approach in vivo. To overcome the limitation, Dr. Smith and colleagues used cadaver models representing the anatomic changes that occur during surgery.
"Our data showed that MI lumbar decompression preserves a patient's normal anatomy, which is critical to long-term success," Dr. Smith said. "The evidence seems to suggest that traditional open operations – known as midline laminectomies – carry much more risk for further surgery, including fusion, down the road."
The MI technique spreads muscle rather than destroying the tissue and preserves ligaments that run through the posterior portion of the spine itself. Without these structures, which traditional surgery removes, much of the support for the spine is lost.
Dr. Smith is currently studying the clinical outcomes of the approach.
"The goal is to learn how efficacious our MI procedures are," he said. "We do know that they are equally as safe as open techniques and also just as effective at relieving pain, if not more so."
The study was funded by the American Association of Neurological Surgeons and the Congress of Neurosurgery.