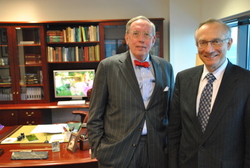 Decision making occurs every day, all day, in all that we do.
With that simple statement, Harvey V. Fineberg, MD, PhD, president of the Institute of Medicine, began an hour-long presentation on the manner in which choices are made in medicine, public health and health policy. 
Dr. Fineberg was on campus Tuesday, December 10, to deliver the biannual John H. Hollister Lecture. 
"The way we make decisions has not fundamentally changed; what has changed are the capacities, resources and technologies that enter into the process," he said. "Healthcare today is also more complex, more demanding and more challenging for patients, clinicians and policymakers." 
Welcomed to Chicago and Northwestern University Feinberg School of Medicine by Eric G. Neilson, MD, vice president for medical affairs and Lewis Landsberg Dean, Dr. Fineberg's presentation touched on both the how and why of choice. 
"You can think about decision making by describing it, and you can think about decision making by prescribing it," he said. "Both are important, as is the relationship between the two." 
The role of priming, he explained, is the difference between talking about a bath or the desire to have dinner. Given the chance to select a word starting with "s" and ending with "p," audience members could be steered toward soap or soup, respectively. 
"Over the course of my own dwelling on the subject of choice, I've come to appreciate two distinct lines of thinking," Dr. Fineberg said. "The line we could call descriptive explores the question of how people decide and what decisions they make. The other line is prescriptive: this is what might be considered the 'right' choice to make." 
Speaking to an overflow audience inside The Robert H. Lurie Medical Research Center of Northwestern University, Dr. Fineberg offered numerous real-world examples and various hypothetical situations to explain the impact decision making can have on people, patients, policy and programs.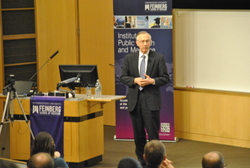 "We were thrilled to have Dr. Fineberg visit Northwestern. Even before the Institute of Medicine's report on the integration of public health into primary care, he promoted the collaboration of medicine and public health during his time at Harvard," said Rowland Chang, MD, MPH, director of the Institute for Public Health and Medicine (IPHAM). "His lecture, no doubt, inspired many of our students and fellows to continue their boundary spanning interests in research, education and service endeavors." 
Dr. Fineberg has maintained a long career in researching the process of policy development and implementation, assessment of medical technology, dissemination of medical innovations and the evaluation and use of vaccines. He served as provost of Harvard University from 1997 to 2001, following 13 years as dean of the Harvard School of Public Health. 
He helped found and served as president of the Society for Medical Decision Making and has been a consultant to the World Health Organization. At the Institute of Medicine, he has chaired and served on a number of panels dealing with health policy issues, ranging from AIDS to new medical technology. 
"It's really essential to understand how to frame choice and how doctors do it is really important," said Joseph Feinglass, PhD, research professor in Medicine-General Internal Medicine and Geriatrics and Preventive Medicine.  "I thought that Dr. Fineberg's lecture offered a nice starting point on these issues and his discussion about the variation of decision-making styles is really relevant." 
Having spent the day on campus, Dr. Fineberg came away impressed with "the vitality of growth," saying, "it's clear that there's a tremendous sense of movement and opportunity to do more in both research and education," especially with regard to IPHAM. He also provided some advice for Feinberg students. 
"Master the subject, remember that the patient and the public come first and pick a role that you know will fit your interests and satisfaction so that it's something you really enjoy and get a lot of gratification through," he said. 
Fineberg's visit as the 2013 IPHAM Visiting Professor and Hollister Lecturer was co-sponsored by IPHAM and the Walter S. and Lucienne Driskill Graduate Program Lecture in Life Science Series.
The John H. Hollister Lecture Fund, established by his daughter Isabelle Hollister Martin, supports lecture programs related to the improvement of public health. John H. Hollister was a founder of the Northwestern Medical School and served as president of the Illinois Medical Society, the Chicago Medical Society and was an early member of the board of directors of the American Medical Association.