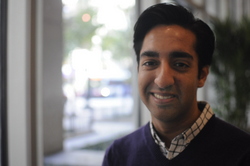 During high school, Anil Wadhwani had his first research experience at Northwestern University Feinberg School of Medicine and this opportunity piqued his interest in pursuing a career as a physician scientist.
Then, as an undergraduate at Northwestern University, Wadhwani studied the molecular mechanisms of synapse dysfunction in Alzheimer's disease under William Klein, PhD, professor of Neurobiology and Neurology, and Pascale N. Lacor, PhD, Research Assistant Professor.
When he came to medical school, he knew he wanted to continue investigating the disease.
Wadhwani joined the lab of Jack Kessler, MD, professor in Ken and Ruth Davee Department of Neurology and Molecular Pharmacology and Biological Chemistry, to look at Alzheimer's disease using human stem cells.
"I am really interested in learning and memory and diseases, so it was natural to want to study Alzheimer's disease," he said. "Working in Kessler's lab has given me an introduction to stem cell biology. It's a new area of science for me, so I can continue to learn and grow as a researcher."
Wadhwani is looking at the APOE gene, which is the most common genetic risk factor for the late-onset, sporadic Alzheimer's. Scientists do not understand why this gene is associated with the disease.
In attempt to solve this puzzle, Wadhwani uses stem cells to learn about neuronal phenotypes, or traits, which are linked to the disease.
"The long term goal is to better understand the mechanism by which the APOE gene contributes to genetic risk in Alzheimer's disease, but then also to have better human cell models of the disease that we can use for therapeutic development or additional scientific research," he said.
Wadhwani plans to pursue a career in academic medicine.
"I am passionate about academic medicine," he said. "I want to do science and have a clinical practice. I also want to teach in some capacity, whether it be in a lecture hall, in a laboratory, or on the wards."
As an MSTP student, Wadhwani spent his first two years as a medical student. The medical knowledge he gained during his coursework allowed him to put his research into perspective.
"While thinking about the nervous system as part of the whole body, I realized there are immune disorders and vascular disorders, which can all have neurological implications," he said. "Through medical school I've also learned to understand the implications of disease at a societal level. This has helped me justify why I am a researcher. My research is not only contributing to an individual patient, but to society."