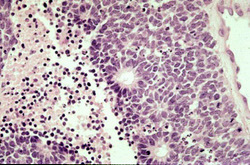 The discovery of a novel molecular pathway in retinoblastoma, the most common pediatric cancer of the eye, holds the potential for new treatment targets.
Considered rare and treatable in the United States, in parts of Africa and Asia late detection of the retinal tumors have led to mortality rates as high as 70 percent.
What Nikia Laurie, PhD, assistant professor in pediatrics-cancer biology and epigenomics, uncovered is that increased levels of microRNA (miRNA) 449a and 449b lead to both a decrease in cancer cell growth and an acceleration of cancer cell death.
"Any time you see a change like that – a reduction in growth and increase in cell death – it indicates the particular pathway may be an ideal therapeutic target," said Laurie, a member of the Ann & Robert H. Lurie Children's Hospital of Chicago Research Center and the Robert H. Lurie Comprehensive Cancer Center of Northwestern University. "We are now gearing up to continue our research in vivo."
Using human retinoblastoma tissue samples and cell lines, the findings, published in Biochemical and Biophysical Research Communications, offer the first insight into the role miRNA 449a and -b play in the eye cancer, although their roles have previously been described in different malignancies throughout the body.
MiRNAs are short, non-coding RNAs that act by regulating target genes. Specific miRNAs have been confirmed to impact cancer, acting as either tumor suppressors or promoters by exerting effects on important regulatory pathways.
The lab's next step will be to investigate the miRNA-449 pathway in preclinical models.
"Retinoblastoma is our model system, but we are really looking for potential new ways to treat cancer," Laurie said. "We are trying to develop targeted therapy that can be directed at the cancer cells without affecting normal cells."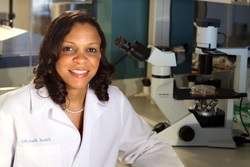 As with other cancers, retinoblastoma is often treated with broad-based chemotherapy. These drugs kill nearly all rapidly dividing cells in the body, which is why people lose their hair (rapidly dividing cells in hair follicles) and often get sick (rapidly dividing cells in the gastrointestinal tract).
One of the reasons Laurie has focused her work on retinoblastoma is due in part to the devastating effects that current treatment options inflict on children. Occurring most often before the age of three, retinoblastoma can lead to blindness, death or a host of complications caused by chemotherapy.
"A lot of the discoveries that we can make are applicable to other cancers, both pediatric and adult," Laurie said. "So even though retinoblastoma is rare, our hope is that the discoveries that we make and the potential therapeutic targets that we find will not only affect it, but other cancers as well."
Excited by the collaborative nature that exists between Lurie Children's and Northwestern University Feinberg School of Medicine, in 2010, Laurie helped found the Retinoblastoma Center of Excellence, a consortium of scientists and physicians engaged in active dialogue around the disease.
"When you have that dialogue you have a much better chance of moving discoveries from the bench to the bedside, of really making an impact," she said. "By marrying physician with scientific interests, we hope to increase the possibility that discoveries in the lab will lead to new clinical treatments."
Laurie's research was supported by the Illinois Department of Public Health Excellence in Medicine Award and Research to Prevent Blindness.
Contributing authors included Alissa Martin, MD, a Pediatrics-Hematology, Oncology and Stem Cell Transplantation fellow; Aunica Jones, a research associate in Laurie's lab; Paul Bryar, MD, associate professor in Ophthalmology and Pathology; Marilyn Mets, MD, Lillian Sherman Cowen Reiger and Harold L.S. Cowen Research Professorship of Pediatric Ophthalmology; Joanna Weinstein, MD, assistant professor in Pediatrics-Hematology, Oncology and Stem Cell Transplantation; and Gang Zhang, PhD, in the Biostatistics Research Core.