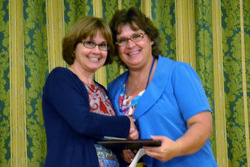 Sharon A. Blattner, MEd, PA-C, director of clinical education for the Northwestern University Feinberg School of Medicine Physician Assistant Program (PA), received a clinical education award from the Physician Assistant Education Association (PAEA). The award was presented at the 2013 PAEA Annual Education Forum.
"Being acknowledged by my PA colleagues across the country is an honor," Blattner said. "There are so many talented individuals in this field and to be chosen to receive this award is humbling. As I receive this award for innovations in the clinical curriculum, I challenge all my colleagues to continue to pursue novel approaches to teaching so that our physician assistant students will be leading providers on tomorrow's healthcare teams."
The award recognizes a faculty or staff member with a minimum of three years' experience coordinating the clinical education of PA students. Nominees were evaluated based on the exhibition of exemplary student support, recruitment and maintenance of clinical sites, development and training of clinical preceptors, and the fostering of interdepartmental, institutional, or community relationships.
James Van Rhee, MS, PA-C, former program director, nominated Blattner for the national award.
"Ms. Blattner is tough when required, provides a shoulder to cry on when needed, and, first and foremost, has the students' best interests at heart," he stated. "I have seen her stand up to a preceptor who is not being fair with a student, not concerned that it could cost the program a clinical site; I have seen her be tough with students who are shying away from a clinical experience because they think it is too tough; but my favorite moments are when I see her smile as the students talk to each other about the wonderful experiences they just had on their last clinical site."
Blattner joined the PA program as a clinical coordinator in 2010, when the program was in its infancy. Within eight months, she had recruited, fostered, and developed the sites needed to place 30 students for their first clinical year.
"Sharon has demonstrated significant contributions in teaching, scholarly activities, and service throughout her career as a PA – as both a clinician and now as a faculty member," said Kristine M. Healy, MPH, PA-C, associate program director. "She provides exemplary student support to all students during their first and clinical years. She is a great organizer and problem solver. She has a genuine talent for recruiting preceptors and is able to foster long term relationships with them. She's a great asset to our program."