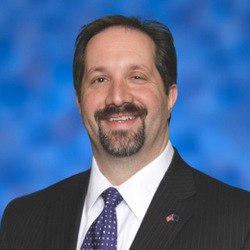 In the fall of 1987, the Honors Program in Medical Education (HPME) went from a six- to a seven-year program. HPME students are admitted simultaneously to one of the undergraduate colleges at Northwestern University and to the medical school. Andrew Eisen, HPME '94, welcomed the addition of an extra year of undergraduate studies.
"It was a tremendous improvement," said Eisen. "Changing the educational experience from six to seven years created the opportunity to do more. I took classes in literature, Latin, and sociology. I saw classmates exploring things that would make them better doctors."
Some of Eisen's favorite memories include partaking in the medical student sketch comedy show In Vivo and participating in the Cabrini Green Youth Program.
Now known as the Near North/Cabrini Green Youth Program, Eisen attended the mentoring sessions for all four years of medical school. He says this experience laid the foundation for his passion in public service and public policy. During the program he learned that a physician's job is more than providing medical care to patients.
"As physicians we all need to find the way we can contribute better to our community," he said. "You can't say your only contribution is taking care of the patients that come into your office."
As he went through medical school, Eisen felt pediatrics was the right fit, but was disheartened that his home state of Nevada did not have a pediatric residency program. He wanted to create one there. After completing his residency training in pediatrics at Phoenix Children's Hospital and Maricopa Medical Center in Arizona, Eisen was tapped to do just that.
Starting as an assistant professor and associate director of the Pediatric Residency Program at the University of Nevada School of Medicine, he became director three years later. Today, it remains the only pediatric residency program in the state.
"I'm trying to expand the world of medical education in Nevada," he said. "Long term, if we want to have physicians here, the best way to do that is to have more residency programs."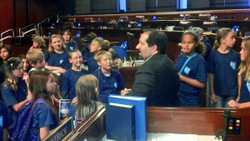 Also after his return to Nevada, Eisen felt compelled to engage in community service like he had done as a student in Chicago. So he helped develop the Clinic on Wheels Program in Las Vegas. He and his team took retired school buses and converted them into mobile clinics, using them throughout southern Nevada to provide basic wellness checks and immunizations to those living in the area. They moved to a physical location in 2006 as the Helping Kids Clinic, and, since then, have become one of the top providers of immunizations in Clark County, Nevada.
Eisen volunteered with other community organizations at this time, as well, including the Bower School-Based Health Center at Basic High School and Volunteers in Medicine of Southern Nevada, where he was a member of the board of directors. He also served on the Clark County Child Death Review Team, which works toward preventing child deaths, and as the treasurer and then secretary for the Clark County Medical Society, and was appointed to the State Mental Health and Developmental Services Commission. These experiences led Eisen to run for state legislature last fall.
"I was frustrated. Not just by some of the decisions that were being made, but also by how the decisions were being made," he said. "I told myself, 'If you think you can do better, then you should run.'"
Eisen was elected to the Nevada State Legislature in November 2012 to represent a district in the Las Vegas metropolitan area. He is the 11th physician to serve in state legislature, the first Democratic physician since 1918, and the first pediatrician.
"It's my first session and it has been a learning experience," Eisen said. "I carried five bills that ended up being successful. We were able to make some changes in the way that education is funded for K-12 schools and higher education, and streamlined recommendations for the prevention of child deaths. In terms of healthcare, we still have more to accomplish, such as doing a better job of getting medical attention to those who need it and improving mental health resources."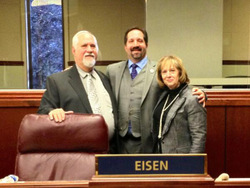 Outside of politics, Eisen works as the associate dean for clinical education at Touro University Nevada. Eisen said his decision to pursue a career in academic medicine was encouraged by his experience following his first histology exam. After receiving poor marks on the test, he went to visit Alvin Telser, PhD, the course director and now associate professor emeritus in cell and molecular biology, and found him to be incredibly supportive.
"His investment in my academics affected me," said Eisen. "Even though I wasn't the best histology student, he cared about my learning and success. This thoughtful attitude towards my education made me want to do the same for future physicians."
Eisen's dedication and passion for teaching earned him the Clark County Medical Society President's Award for excellence in educating Nevada's residents, medical students, and physicians.
"I want medical students to know how tremendously lucky we are to be in this profession," he said. "We are physicians and it is an incredible honor that is worth the sleepless nights, hard work, and challenges."