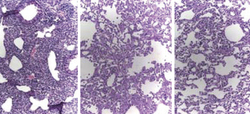 New Northwestern Medicine® research has identified a protein that could be responsible for telling the body when inflammation is no longer needed to protect it from harmful stimuli.
Giving the "all clear" signal, protein Miz1 was observed acting as a safeguard, keeping inflammation of the lungs in check. The findings, published in Nature Immunology, offer insight into the unknown sequence of events that leads to the drawdown of one of the body's major defense systems.
"We know that inflammation is a double-edged sword," said Jing Liu, PhD, assistant professor of medicine-pulmonary. "On one hand, it's beneficial for the host because it's required to defend against invading pathogens like viruses or bacteria. But once the pathogen leaves, the inflammation has to be resolved – stopped – so that the host can return to normal."
Looking at the lungs of mice where Miz1 was removed, scientists identified a state of persistent and unchecked inflammation.
"The next step will be to find out if this loss of Miz1 correlates with a certain set of patients who cannot resolve inflammation to see if the molecule is in fact downregulated or missing," said Liu, pointing toward asthma as one such possible condition. "We need to continue to look at the bigger picture to see how this molecule coordinates with other factors to really control inflammation."
Because her most recent research focused solely on the lungs, Liu is excited to see whether Miz1 plays a role in inflammation in other organs, such as the liver or gut.
"The progression of liver inflammation to liver cancer is well established," she points out. "It will be interesting to see if the loss of Miz1 causes chronic inflammation in the liver, leading to cancer."
The Liu lab has also begun work to determine what other roles Miz1 might play throughout the body.
"It has been reported that it plays a part in embryonic development, the cell cycle, and cell death," she said. "Although we are the first group to demonstrate that this molecule plays a role in inflammation, we would like to see what other functions it is responsible for."
Liu's research is funded by National Institutes of Health grant GM081603.