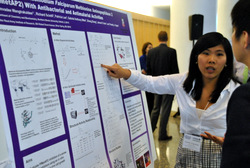 It took thousands of hours and tens of millions of dollars for Stephen Frye, PhD, to see the project he once led result in a Food and Drug Administration-approved drug.
"It's a long scientific process and it's important to keep in mind that the philosophies that guide drug discovery and chemical biology are distinct, yet complimentary," said Frye, director of the Center for Integrative Chemical Biology and Drug Discovery at the University of North Carolina in Chapel Hill and keynote speaker at Northwestern's 18th Annual Drug Discovery Symposium. "While chemical biology can be relatively successful with the typical scale of academic funding, true drug discovery requires much more investment, which can be difficult to pull together in a university setting."
The payout for Frye, who worked for pharmaceutical giant GlaxoSmithKline for nearly two decades, was Avodart, a prescription drug used today to treat enlarged prostate glands.
Frye came to Feinberg to share some of his experiences from an industry and academic point of view, taking part in the Center for Molecular Innovation and Drug Discovery's (CMIDD) annual symposium on November 13. The day included his keynote presentation, a scientific poster session, and networking reception.
"This event brings together faculty, postdocs, and students on both campuses who are interested in all aspects of therapeutic science and academic drug discovery," said Karl Scheidt, PhD, Dow Company Research Professor of Chemistry and CMIDD co-director. "The landscape of academic therapeutic research is rapidly evolving and for medical school investigators to move their basic research ideas toward clinical endpoints, it's crucial for them to interact with the group of Northwestern researchers who have already been through many of the challenges."
Providing a platform for those interactions, the poster session featured more than two-dozen abstracts from individuals representing Northern Illinois University, the Fred Hutchinson Cancer Center in Seattle, the University of North Texas, the University of Illinois at Chicago, and Northwestern University.
"This symposium is unique because we don't often interact in a setting like this, with scientists from the Evanston Campus and beyond," said Eric Voll, a student in the Walter S. and Lucienne Driskill Graduate Training Program in the Life Sciences (DGP). "Drug discovery is by nature a very collaborative process and there is a lot of unique work that you will only see here."
DGP student Sankar Krishna, working in the lab of Raymond Bergan, MD, professor in medicine-hematology/oncology and preventive medicine, and postdoctoral fellow Kyle Wilcox, working in the lab of William Klein, PhD, professor of neurobiology, were honored as the day's best presenters.
Hosted by the CMIDD, the annual symposium is supported in part by the Northwestern Office of Research, Robert H. Lurie Comprehensive Cancer Center of Northwestern University, the DGP, pharmaceutical company Takeda, and data management company Collaborative Drug Discovery. The poster awards were sponsored by Sigma-Aldrich.
Based primarily in Evanston and comprised of scientists with expertise in assay development, high throughput screening, molecular modeling, medicinal chemistry, and compound purification, the CMIDD is a collaborative research platform bridging the gap between biologists and chemists.
Founded in 2007, the center has made it possible for Northwestern University Feinberg School of Medicine scientists to apply for more than $100 million in drug discovery-related funding. Today, the center has a library of more than 70,000 small molecules and has begun developing an internal collection of compounds created by Northwestern scientists for use in basic and translational research projects.