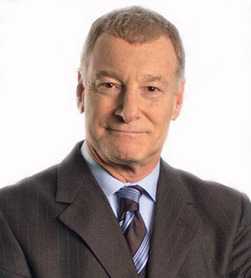 Stephen B. Hanauer, MD, a distinguished physician-scientist and international leader in the treatment of inflammatory bowel disease, is joining Northwestern University Feinberg School of Medicine on January 1, 2014, as the Clifford Joseph Barborka Professor of Medicine and the medical director of the Digestive Disease Center.
Hanauer most recently served as the Joseph B. Kirsner Professor of Medicine, professor of clinical pharmacology, and chief of gastroenterology and nutrition at University of Chicago Pritzker School of Medicine. He also served as director of the Logan Center for Gastrointestinal Clinical Research and co-director of the Inflammatory Bowel Disease Research Center at Pritzker. 
"We are delighted to welcome Dr. Hanauer to the medical school and Northwestern Medicine®," said Eric G. Neilson, MD, Feinberg's vice president for medical affairs and Lewis Landsberg Dean. "His focus on Crohn's disease, ulcerative colitis, and reputation as a leading scholar of digestive diseases will greatly enhance our focus in these complicated scientific disorders."
After earning his medical degree with honors from the University of Illinois in Chicago, Hanauer completed his internship and residency in internal medicine, in addition to his fellowship in gastroenterology, at the University of Chicago.  
"Our comprehensive mission at Northwestern Medicine is to enhance patient care over the widest possible spectrum of human disease," said Dean Harrison, president and CEO of Northwestern Memorial HealthCare. "Dr. Hanauer brings to our health system a lifetime of experience in complex bowel diseases and creates new opportunities to advance treatment of this important group of disorders." 
He currently serves as chair of the International Organization for Inflammatory Bowel Disease, secretary-elect of the American College of Gastroenterology, and is a member of the GI Specialty Board of Internal Medicine, the American College of Physicians, and American Gastroenterology Association. He previously served as chair of the Food and Drug Administration (FDA) Gastrointestinal Drugs Advisory Committee, where he authored the FDA's "Guidelines for Clinical Evaluation of Drugs for Patients with Inflammatory Bowel Disease." 
"The recruitment of Dr. Hanauer as medical director of this newly created center at Northwestern Medicine is a major accomplishment," said John Pandolfino, MD, chief of medicine-gastroenterology and hepatology. "He will complement an already superb division and undoubtedly position us amongst the top clinical programs in the country." 
Hanauer has authored or co-authored hundreds of peer-reviewed journal articles, books, book chapters, monographs, and editorials. He also serves on the editorial boards of numerous medical journals, including the American Journal of Gastroenterology, Inflammatory Bowel Diseases, and the American Journal of Medicine, and designed and maintains the 6,000 patient Inflammatory Bowel Disease Registry.