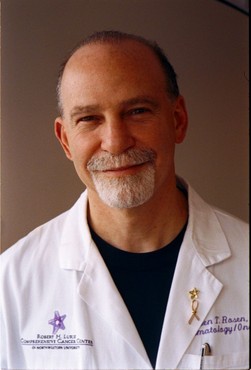 After 32 years at Northwestern University Feinberg School of Medicine, Steven T. Rosen, MD '76, director of the Robert H. Lurie Comprehensive Cancer Center of Northwestern University, has accepted an offer to become provost and scientific director at City of Hope, a cancer research hospital in Duarte, California. 
Established in 1974, Northwestern's cancer center has enjoyed an era of international prominence under the leadership of Rosen, who became director in 1989. In 1991 it was dedicated as the Robert H. Lurie Cancer Center of Northwestern University through the transformative gift of Ann and Robert H. Lurie.  
In 1998, the center's name was modified to reflect the National Cancer Institute (NCI) designation of the highly competitive "comprehensive" title — reflecting its dedication to the utmost standards of cancer research, patient care, education, and community outreach. The Lurie Comprehensive Cancer Center is also a founding member of the National Comprehensive Cancer Network and the Big Ten Cancer Research Consortium. 
"On behalf of Northwestern University Feinberg School of Medicine and Northwestern Medicine®, we are profoundly grateful for the steadfast dedication Dr. Rosen has shown to both his patients and to the cause of cancer research," said Eric G. Neilson, MD, vice president for medical affairs and Lewis Landsberg Dean. "His impact on the community and the city of Chicago will be felt for generations. We wish Dr. Rosen and his family the very best in this new position of leadership." 
During his tenure at Northwestern, Rosen has remained an active scientific investigator and world-class physician. His treatment of Maggie Daley, Chicago's former first lady, during a decade-long battle with breast cancer, was lauded throughout the state. In 2010, The Maggie Daley Center for Women's Cancer Care in Prentice Women's Hospital was unveiled with the first lady of 22 years in attendance. 
"I am indebted to the Lurie Cancer Center team for their years of service and am confident it will continue to thrive as a result of their leadership," said Rosen, Genevieve E. Teuton Professor of Medicine and professor of medicine-hematology/oncology.  "Though I have mixed emotions about leaving Northwestern, I am excited by the opportunity to lead a world-class, free-standing cancer hospital and be close to my family in California."  
Throughout his career, Rosen has received numerous awards, including the University's Alumni Merit Award, Northwestern Memorial's Martin Luther King Humanitarian Award, and the Lynn Sage Cancer Research Foundation Community of Commitment Award.   
Graduating with distinction from Feinberg's honors program in 1976, Rosen completed his residency in internal medicine at Northwestern and a fellowship in medical oncology at the NCI. 
His scientific investigations have focused on experimental therapeutics and hematologic malignancies and he has published more than 400 papers, editorials, books, and book chapters. 
Rosen currently sits on the National Board of the Leukemia Lymphoma Society (LLS), has been appointed to many cancer center advisory boards, and receives funding from the NCI, American Cancer Society and LLS. He has also been listed as one of the best doctors in Chicago and America. 
"This is a wonderful opportunity for Dr. Rosen," said Dean M. Harrison, president and CEO, Northwestern Memorial HealthCare. "He has led the Robert H. Lurie Comprehensive Cancer Center with distinction for more than two decades. What I think we will miss the most however, is his warm, compassionate care that so many have found comfort in when confronted with a life-changing cancer diagnosis. We are forever grateful for Dr. Rosen's leadership, his thoughtful approach to patient care, and perhaps most important, his friendship. We wish the best for him and his family." 
Rosen's last day at Northwestern will be January 31, 2014. A national search for his successor will begin soon.