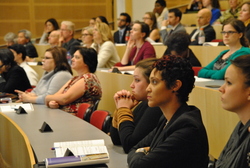 An architect of America's patient safety movement, Martin Hatlie, JD, built its organizational infrastructure at a time when the term "medical error" was not yet a part of the healthcare vernacular.
"In the mid '90s it was unthinkable that patients could be injured in a hospital," said Hatlie, the 18th Annual James E. & Bonnie L. Eckenhoff Lecturer. "The importance of courage to have these difficult conversations between patients and physicians after something has gone wrong provides an opportunity to listen, learn, and move forward."
Hatlie's keynote presentation, "The Journeys of Patient Safety Advocates in the 21st Century," was part of an afternoon of events sponsored by the Buehler Center on Aging, Health & Society on Monday, October 21. The day also included the John & Gwen Smart Symposium, a roundtable discussion, and a question-and-answer session.
"The Buehler Center has always tried to bring the voice of insight to bear on problems that challenge people made vulnerable by aging and illness," said Linda Emanuel, MD, PhD, director of the center. "The privilege of being able to bring people of courage, vision, and voice to talk with our clinicians and researchers to guide and inspire them in their work is one we take very seriously."
Hatlie, who serves on the World Health Organization's (WHO) Patients for Patient Safety Steering Committee and the Joint Commission's Patient Safety Advisory Group, discussed his experiences with patient advocates from Idaho to Washington, D.C., even touching on his own relationship with physicians and nurses during his mother's end-of-life illness.
"It is important for patients to act like the healthcare system belongs to them, especially as you and your loved ones age," said Hatlie, CEO of Project Patient Care, a Chicagoland safety and quality improvement coalition. "Build a team of advocates for yourself if you do not see one; if something is not working for you, have a conversation regarding change."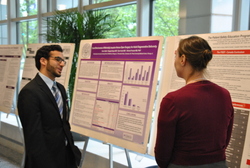 Following Hatlie's presentation, the Smart Symposium featured a record number of scientific posters and interactive displays.
"The biggest thing that I took away from this year's event is that working with families is something that you have to incorporate more with the aging population; it's an aspect that we will continue to learn about and will be up to us to integrate as we move into rotations," said Omar Uddin, a second-year medical student who is conducting research on neurosurgery as his Area of Scholarly Concentration.
"One of the most common things in the field is spinal surgery, and degenerative scoliosis is rising in the aging population," he said. "Our study's preliminary findings suggest that there are significant reductions in costs with a minimally invasive approach, but we are still attempting to determine if the outcomes are the same."
Begun in 2003, the Smart Symposium showcases research and educational activities relevant to aging, patient safety, the terminally ill, and other vulnerable populations and explores ways to improve quality of life and provide safe care for all populations. This year's event featured 48 posters and five interactive booths from scientists at Northwestern University and surrounding academic communities.
Gayle Spill, MD, assistant professor in physical medicine and rehabilitation, presented a case study on the role of rehabilitation in cancer patients.
"Working at the Rehabilitation Institute of Chicago it's really nice to be able to present at a multidisciplinary event like this, where there are researchers and clinicians in different specialties that can stop by and have different conversations," she said. "Cancer rehabilitation is a relatively new field and not a lot of people understand what we can do for these patients to maintain quality of life and functional independence."
A roundtable discussion on Chicago's age-friendly city initiative ended the day's programming.
Moderated by Joyce Gallagher, executive director of the Chicago Department of Family and Support Services, the event marked the first presentation of findings on the citywide campaign launched in 2012 in partnership with the Buehler Center. The concept of age-friendliness, globally coined by the WHO, is meant to give value to the physical, social, and environmental factors which can promote or hinder older residents' ability to age in cities.