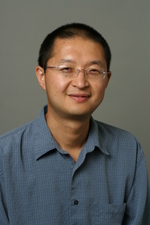 The challenges are many. 
"Schizophrenia is a complex disease with different clinical, behavioral, cognitive, and genetic manifestations, and it's rare for any single research group to have the sufficiently large datasets needed to test hypotheses and capture its full variability and complexity," said Lei Wang, PhD, assistant professor in psychiatry and behavioral sciences and radiology. "This project will help scientists draw meaningful conclusions about the disease using very large data samples that are well beyond the scope and capability of a single scientist." 
The project Wang is referring to is SchizConnect, an ambitious, four-year, multisite venture meant to overcome limitations in data sharing amongst the schizophrenia research community. Wang, director of the Neuroimaging and Applied Computational Anatomy Lab (NIACAL), is the lead principal investigator (PI) on a multi-PI National Institutes of Health U01 grant. 
Begun in March, the next six months of the project will be spent determining the scope of SchizConnect, with initial datasets contributed from Feinberg, the Functional Biomedical Informatics Research Network (FBIRN) at the University of California-Irvine, the Mind Clinical Imaging Consortium (MCIC) at the Mind Research Network in New Mexico, and the Information Sciences Institute at the University of Southern California. 
Although large neuroimaging datasets exist for normal development, aging, Alzheimer's disease, and other neuropsychiatric conditions, no resource like SchizConnect exists for schizophrenia. That limitation, in part, led to the creation of consortia databases such as the FBIRN and MCIC. Their purpose is to help improve scientists' understanding of the relationships among abnormalities of brain circuitry, brain function, and genetic variability in schizophrenia.
SchizConnect will bring information from these disparate neuroimaging repositories into a common integrated system, eliminating the immense effort required to share data between centers and scientists. 
"Our work has already demonstrated that data integration is feasible," Wang said, citing a recent paper in which scientists analyzed and validated neuroimaging data from Northwestern, the FBIRN, and MCIC. "While SchizConnect will be dedicated to schizophrenia neuroimaging data, the resulting model-based framework for information sharing is critically important to all of translational neuroscience." 
For users, SchizConnect will appear as a single, virtual database with uniform interface, but the aggregated data will remain at individual repositories and under the control of those providers. 
"We believe the time is ripe to leverage the tools developed by the neuroimaging community to create a large-scale resource for schizophrenia and related spectrum disorders," Wang said. "We share the strong belief that the development of a true federation of neuroimaging and related metadata is the only way we can gain significant traction on understanding the neurobiological complexity of this disease." 
By early next year, the group plans to complete entry of the initial datasets and have a searchable database developed. Phase two of the three-phase project will involve adding an increased number of data variables before the final step of adding datasets from other sites. The SchizConnect web portal is expected to be developed by fall 2015, at which time users will be invited to register.