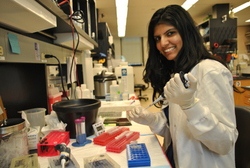 With eyes closed, humans can touch their nose within two centimeters of the tip.
For scientists trying to understand the genetic underpinnings that guide proprioception, knowing the position of limbs in space with respect to the body, the goal is to explain it with ever increasing precision.
Working in the lab of Warren Tourtellotte, MD, PhD, associate professor of pathology and neurology, Michelle Oliveira Fernandes has focused her efforts on the role of gene Egr3 in muscle spindle development. These sensory receptors embedded within skeletal muscle detect changes in the length of muscle stretch, sending feedback to the spinal cord. That connection provides a person with the information needed to know a limb's position. In many neurological conditions, that information gets distorted.
"More than 20 million people in the United States are afflicted with some form of neuropathy, or damage to nerves," said Oliveira Fernandes, a PhD candidate in the Walter S. and Lucienne Driskill Graduate Training Program in Life Sciences. "At present, we do not understand the cause of most of these peripheral neurological disorders, the onset of which can be either congenital or acquired. While the symptoms of most disorders are treated from a clinical perspective, the underlying molecular mechanisms have yet to be uncovered in a vast majority of neuropathies that have a direct genetic cause."
The purpose of Oliveira Fernandes' project, which won the top basic science award at the Ninth Annual Lewis Landsberg Research Day, was to determine whether the role of Egr3 is restricted to the developmental phase of the skeletal muscle. She found that removing the gene from the muscle resulted in abnormal spindle development, confirming that the maturation process is dependent on the gene.
"When the gene is absent, gait defects occur," Oliveira Fernandes said. "The overall goal is to continue to better understand the gene or genes responsible for proprioception disorders."
Her current focus is on understanding the functional role of Egr3 in adults.
"Our hypothesis is that Egr3 regulates a growth factor that maintains sensory innervation, or connection, to muscle spindles," she said. "Without a retrograde signal sent back, axons will retract from muscle spindle receptors, thereby severing the sensory feedback and leading to a loss of proprioceptive control."
These experiments have the potential to lead to new therapeutic targets to combat proprioception disorders. Oliveira Fernandes plans to publish her research this summer, with the goal of defending her thesis by the end of the year.
The research is supported by National Institutes of Health grants R01-NS063078 and K26-OD010945.