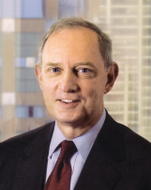 Recent study findings, stemming from a project launched at Northwestern University Feinberg School of Medicine, suggest myocardial thinning may be reversible.
Published in the Journal of the American Medical Association (JAMA), scientists determined that patients with coronary artery disease and regional myocardial wall thinning often have only limited scarring, meaning function can be restored after undergoing revascularization, a surgical restoration of the blood supply.
"What we did was develop a method to distinguish viable heart muscle from non-viable (scarred) muscle in patients with coronary artery disease," said Robert Bonow, MD, Max and Lilly Goldberg Distinguished Professor of Cardiology. "The implication is that by identifying those individuals with predominantly viable tissue, physicians could open opportunities for treatment with drugs or revascularization with stents and coronary bypass surgery."
The study refutes the prevailing thought that regional myocardial wall thinning always results in permanent damage. Through the use of  delayed-enhancement cardiovascular magnetic resonance (CMR) imaging, it shows that regions of the heart with severe wall thinning do not necessarily consist entirely of scar tissue, but instead may have minimal or no scarring at all. This would mean those areas could represent viable tissue with the potential for recovery.
"Because the lack of scarring was associated with significant improvement … we believe the data indicate that myocardial thinning is potentially reversible and therefore should not be considered a permanent state," the scientists said in JAMA. "The findings provide rationale for future experimental studies … as well as for clinical studies prospectively testing whether CMR guidance for coronary revascularization decisions can improve patient outcome."
The project began in 2000, when Bonow was chief of cardiology, at a time when the division was developing its cardiac MRI program in collaboration with the Department of Radiology and the Feinberg Cardiovascular Research Institute. It has since become a multicenter effort involving Duke University and Methodist DeBakey Heart and Vascular Center in Houston. Edwin Wu, MD, associate professor in medicine-cardiology and radiology, was also a part of the study, which was supported by National Institutes of Health grant NHLBI R01-HL64726.
"Heart failure is the leading cause of hospitalization in America for those 65 and older and in the Medicare population, two-thirds of patients have underlying coronary artery disease as the cause," said Bonow, director of the Center for Cardiovascular Innovation. "Because of that, this study will have important implications for a large number of people."