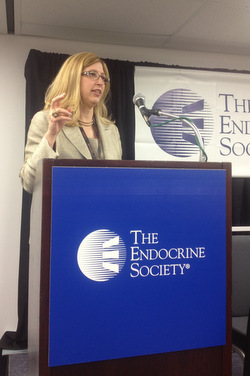 Amidst the presentations and poster sessions, faculty from Northwestern University Feinberg School of Medicine were honored with a pair of major recognitions at the Endocrine Society's 95th annual meeting.
Inaugurated as president, Teresa Woodruff, PhD, director of the Women's Health Research Institute and chief of fertility preservation, takes over leadership of the world's oldest, largest, and most active organization devoted to research on hormones and the clinical practice of endocrinology.
"Worldwide, the endocrinology community is facing a variety of challenges, including the colliding epidemics of obesity and diabetes, growing awareness of the health risks associated with endocrine-disrupting chemicals, the tension between global population expansion and personal reproductive needs, and the need to support scientific research in an environment with limited resources," said Woodruff, also the Thomas J. Watkins Memorial Professor of Obstetrics and Gynecology. "As president of the Endocrine Society, I am looking forward to working with the talented clinicians and researchers in our membership to develop tactics and offer continued scientific leadership to address these issues."
A reproductive endocrinologist, Woodruff has dedicated much of her research career to studying female reproductive health and infertility. So-Youn Kim, a postdoctoral fellow in Woodruff's laboratory, presented the team's research on ways to preserve the fertility of women who are treated for cancer during the recent four day meeting in San Francisco.
Molitch Receives Award
Fifteen years after Neena Schwartz, PhD '53, William Deering Professor Emerita of Biological Sciences, won the first Distinguished Educator Award from the Endocrine Society, Mark Molitch, MD, Martha Leland Sherwin Professor, has been honored with the 2013 prize.
Molitch, who has taught students, staff, fellows, and other members of the endocrine community for nearly 40 years through his lectures and writing, was recognized for his lifelong commitment to the education of patients and providers.
"This is a terrific honor and I am very proud of it," said Molitch, professor in medicine-endocrinology. "I really have three roles at Northwestern: physician, scientist, and teacher. The balance of these means that I see patients, conduct clinical research, and educate patients, residents, and medical students on a daily basis."
Molitch's career is marked by a commitment to helping others. With his wife, Susan Hou, MD, Molitch founded a clinic in Bolivia to provide care to indigenous people. Since 2004, as part of rotations, Feinberg sends two medical students a month to work at the clinic. Molitch is also a prominent figure nationally, leading the development and authorship of clinical practice guidelines. His research focuses on pituitary tumors and diabetic complications.
Founded in 1916, the Endocrine Society's membership has risen to more than 16,000 scientists, physicians, educators, nurses, and students in more than 100 countries. In 2014, The 16th International Congress of Endocrinology will be held jointly with the Endocrine Society's 96th Annual Meeting and Expo from June 21-24 in Chicago.