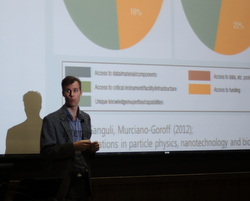 Talking with Bonnie Spring, PhD, professor in preventive medicine and psychiatry and behavioral sciences, one gets the sense that the first step she takes each day is outside of the box.
"When I began to develop weight loss interventions, it became evident that I needed to move beyond my own circle of professional colleagues to include nutritionists and exercise physiologists who approached obesity very differently than I did," said Spring, a clinical health psychologist who recently published a first-of-its-kind study showing how mobile applications can aid in dieting and physical exercise. "When I recognized that people needed tools to help them make eating and activity choices in the moment rather than waiting for a weekly appointment, I knew that the team needed to add new kinds of experts in computer science, engineering, and design."
And so the group of investigators grew, and the team science approach resulted in a publication garnering international attention.
Beginning in 2010 as the first Science of Team Science (SciTS) Conference in the world, last week's annual forum celebrated the successes of scientists like Spring, while providing those in attendance with information on how to optimize collaboration, discuss the latest research, and learn effective strategies to support a team science approach. Sponsored by the Northwestern University Clinical and Translational Sciences (NUCATS) Institute and the Kellogg School of Management, the SciTS Conference serves as a bridge between the science of team science and its practical applications.
"To remain competitive, organizations — business, universities, government, and private sector — need to ensure that their approach to collaboration harnesses the collective intellectual power of their workforce," said Brian Uzzi, PhD, co-director of the Northwestern Institute on Complex Systems, and conference co-chair. "The past decade has seen a rapid evolution in how teams interact. Therefore, leaders must constantly adapt their strategies, processes, and technology to support collaboration."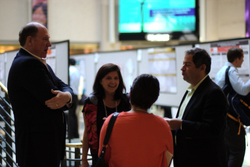 This year's SciTS conference, "Architecting Collaboration," held on the Evanston Campus from June 24-27, featured keynote presentations by Ben Jones, associate professor of management and strategy at Kellogg, and Luis Amaral, professor of chemical and biological engineering in the Robert R. McCormick School of Engineering and Applied Science, as well as panel discussions with leading experts, team science workshops, and networking opportunities.
International participants from Australia, Belgium, Canada, Italy, Japan, Korea, Netherlands, Switzerland and the United Kingdom joined more the 180 attendees at this year's forum.
"It's clear that this is a very hot field right now. There was a really diverse audience, both in terms of geography and discipline," said Jim Bray, assistant director of the NUCATS Center for Translational Innovation. "The conference was a great demonstration of the breadth and depth of activity in the area right now. There are so many innovative approaches that help in understanding team science dynamics and drivers, and how to influence the development of teams in new ways."
At Feinberg, NUCATS supports the team science approach by providing assistance to scientists during all stages of biomedical research. The institute has also developed a series of online learning modules about transdisciplinary team science that are widely used and freely accessible on the web.
"Breakthroughs and transformative products are rarely the work of one individual," Uzzi said. "Typically, teams of dedicated experts commit months or years to research and design – testing, developing prototypes, and building on one another's ideas. The Science of Team Science conference originated to share those research concepts, and this year's event once again highlighted effective strategies implemented by academics and practitioners around the world."