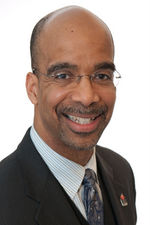 Heart failure doesn't have to be a death sentence. 
That's a big part of the message Clyde Yancy, MD, MSc, chief of medicine-cardiology, and a group of scientists and healthcare professionals wanted to get across. After more than two years of research and revision, the group recently published new clinical guidelines in the online edition of the Journal of the American College of Cardiology. 
"Our big picture approach was to make it clear that heart failure, classically regarded as a futile disease, now carries a more hopeful outlook. Patients can and should do better with this disease than before and the exhaustive burden of this disease can be lessened," said Yancy, guideline committee chair. "What drives the decision to revisit a guideline statement is the extent to which new information is available, and, in this case, we believed that sufficient new data warranted a major rewrite." 
The guidelines, last updated in 2009, featured a host of simplified definitions and classifications, and an increasing emphasis on patient-centric outcomes such as quality of life, shared decision making, care coordination, transitions, and palliative care. It also included a newly developed treatment algorithm to provide physicians with a tool for more personalized care. 
"Guideline Directed Medical Therapy (GDMT) is a one-page treatment algorithm that positions the most highly supported and top-regarded therapies in a simple flowchart that allows for personalized care for patients with heart failure," said Yancy, also Magerstadt Professor and a professor in medical social sciences. "We now have research in hand which shows that adherence to published heart failure guidelines does indeed improve clinical outcomes. Thus, full implementation of GDMT ought to result in fewer deaths and hospitalizations." 
In total, more than 5 million Americans have clinically manifested heart failure, which is a complex syndrome that occurs when the heart's ventricles can't properly fill with or eject blood. More than 670,000 new cases are diagnosed annually and result in more than $30 billion of total healthcare costs. 
Designed to assist clinicians in selecting the best management strategy for individual patients, the guideline review, which started in 2011, was jointly released by the American College of Cardiology and the American Heart Association to provide expert analysis of data on prevention, diagnosis, risk stratification, and treatment. 
"After many months, including several of critical peer review, editing, and re-review, the guidelines are now available," Yancy said. "As chair, I was fully engaged and personally responsible for each step in the development of these guidelines and was also charged with the responsibility of managing conflicts of interest and to make certain that each statement reflected an objective and unbiased best assessment of available evidence and/or prevailing opinion." 
The new guidelines include recommendations for earlier use of certain medical therapies, a list of "must-do" items in the care plan for patients, and updated strategies regarding the prevention of heart failure. The simple evidence-based approach is also meant to reduce re-hospitalizations after heart failure by taking the guesswork out of the process and creating simple directives that should result in a reduction in readmissions. 
"No, we haven't cured anything, but we can treat this condition and can do so better than ever before," Yancy said. "Patients deserve a chance at the best medical therapy for all diseases and these guidelines are a big effort to help make that happen with regard to heart failure."