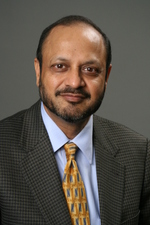 Why use 10 treatments when the same results can be achieved with one? 
That was the question Bharat Mittal, MD, chair of radiation oncology, posed more than a decade ago as he began evaluating the way people with cutaneous T-cell lymphoma (CTCL) were treated with palliative care. 
"Traditional methods meant that these patients had to return over and over and over again. What we found is that the results of a single, higher-dose radiation treatment were similar to the results of giving 10-15 treatments," said Mittal, who recently published the work in the International Journal of Radiation Oncology, Biology, Physics. "What truly instigated this project was the burden and inconvenience that patients were experiencing from the standard treatment regimen." 
CTCL is a rare type of cancer that begins in the white blood cells and attacks the skin, often causing rash-like skin redness and sometimes skin tumors. There is no cure for the disease, but palliative treatments can remove lesions and relieve pain. 
"The outcomes were excellent and we did a cost analysis and found that there was a savings of more than 200 percent when using just one treatment," said Mittal, a member of The Robert H. Lurie Comprehensive Cancer Center of Northwestern University. "There's no downside to it; patients experience reduced social and financial burden while dedicating less time and receiving comparative results."
Today, single-treatment radiation therapy is the standard of care at Northwestern Memorial Hospital, and Mittal is optimistic about its implementation across the country. 
"At a national level, if this is adopted, there will be a great benefit to patients," said Mittal, who published the paper with the help of former resident Tarita Thomas, MD, PhD, FSM'07, GME'12, and former undergraduate lab assistant Priya Agrawal WCAS'10. "I think we have accumulated some pretty solid evidence regarding this treatment option, but these tumors, in general, need a lot of additional research, some of which is taking place right here in the Department of Dermatology."