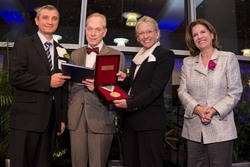 Physicians and scientists from across the country came to Northwestern University Feinberg School of Medicine on Tuesday, May 14, to honor one of the nation's most innovative young scientists.
Ruslan Medzhitov, PhD, Howard Hughes Medical Institute Investigator and David W. Wallace Professor of Immunobiology at Yale University School of Medicine, was awarded the inaugural Lurie Prize in the Biomedical Sciences for discoveries related to the immune system. Established by global philanthropist Ann Lurie, the annual prize will honor early-career researchers whose findings have advanced basic biomedical science. The award, which carries an honorarium of $100,000, was presented at a ceremony inside the Robert H. Lurie Medical Research Center of Northwestern University.
"We are honored to host the inaugural Lurie Prize award ceremony," said Eric G. Neilson, MD, vice president for medical affairs and Lewis Landsberg Dean. "Feinberg has a strong connection and wonderful relationship with Mrs. Lurie, established many years ago with her support of endeavors such as the Lurie Research Center and Robert H. Lurie Comprehensive Cancer Center of Northwestern University. This award further reflects her commitment to the medical sciences and offers young investigators another avenue of support in their pursuit of biomedical discoveries."
A jury of scientists headed by Solomon Snyder, MD, Foundation for the National Institutes of Health (FNIH) board member and director-emeritus of the Solomon H. Snyder Department of Neuroscience at Johns Hopkins University, selected Medzhitov from a group of 154 nominees.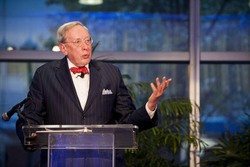 "I have great respect for Dr. Solomon Snyder and great faith that Dr. Medzhitov is an excellent recipient for this inaugural award," Ann Lurie said.  "My specific interest is to reward and acknowledge a scientist who makes a discovery that is clearly a game changer in terms of medical and biological research."
The innate immune system that Medzhitov studies rapidly mobilizes a response to infection and, together with the adaptive immune system, is crucial to protecting human health. In laying out the rationale for granting the award, Snyder said Medzhitov discovered and characterized a class of proteins called Toll-like receptors which recognize and facilitate the immune response to toxic proteins.
"Dr. Medzhitov's painstaking studies have advanced the entire field of immunology and opened the way for the development of new vaccines and treatments," said Snyder. "He is a true pioneer of medical science."
Born in Tashkent in the former Soviet Republic of Uzbekistan, Medzhitov studied biology and biochemistry at a time when financial resources for scientific research were scarce. While reading medical journals, he discovered an article by Charles Janeway Jr., MD, that sparked his interest in immunology and eventually led to a fellowship in the U.S. and his current professorship in immunobiology at Yale.
"I am very grateful to be the first recipient of the Lurie Prize and appreciate the recognition of not only my own work, but also that of young scientists in biomedical research who will be so recognized in the future," Medzhitov said.
Among the guests taking part in Tuesday's award ceremony were the honorable John Porter, FNIH vice-chair for policy and former congressman; Maria Freire, PhD, president of the FNIH; and Charles Sanders, MD, chairman of the FNIH. NIH Director Francis Collins MD, PhD, provided a video message for the event.