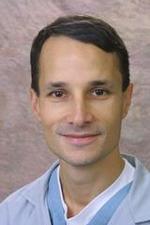 Racial and ethnic disparities in obstetric care and outcomes does not appear tied to differences in where a woman lives or the hospital where they delivered, according to new Northwestern Medicine® research. 
Presented by William Grobman, MD, MBA, professor in obstetrics and gynecology-maternal fetal medicine and preventive medicine, at the Society for Maternal-Fetal Medicine's annual meeting, the data suggest that Asian and Hispanic women face a greater chance of hemorrhage and infection while Asian women also have a significantly higher chance of severe perineal lacerations. 
"The key thing is there are differences in outcomes related to race or ethnicity not explained by demographic characteristics or hospital," said Grobman, a member of the Center for Healthcare Studies in the Institute for Public Health and Medicine.  "There are also racial/ethnic disparities in the types of care that patients receive during labor and delivery."
The study looked at 115,502 women over a three year period to see if adverse obstetric outcomes and provisions in obstetric care were affected by race or ethnicity. 
The data was gathered on 365 randomly selected days at 25 hospitals. Ninety-five percent of the women were categorized as non-Hispanic white, non-Hispanic black, Hispanic, or Asian. 
Looking at associations between race/ethnicity and post-partum hemorrhage, peripartum infection, and severe perineal laceration, Grobman found that non-Hispanic white women were least likely to experience postpartum hemorrhage or peripartum infection, and non-Hispanic black women were least likely to experience severe perineal laceration. Grobman found these differences held after controlling for demographic characteristics and hospital of delivery. 
"I think our findings should motivate further investigation to understand the reasons that these care differences exist and whether or not the disparities and related adverse outcomes can be lessened," he said. 
The study was funded by the Maternal-Fetal Medicine Units Network within the Eunice Kennedy Shriver National Institute of Child Health and Human Development.