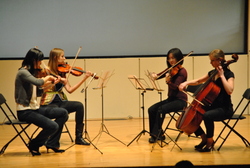 Perched along the edge of the Thorne Auditorium stage, the 16 voices of Docapella & Company brought a harmonious opening to the evening. Produced and directed by first-year students at Northwestern University Feinberg School of Medicine, the annual Fusion benefit is meant to showcase the cultural diversity of the student body through song, dance, and artistic performance. 
"Another purpose of the show is to raise money for charity," said Fusion Board co-President Nitin Goyal. "All of the proceeds this year are going to different charities that a lot of us have personally invested in." 
First-year student emcees Sanjay Saraf and Goyal kept the audience laughing as they introduced artists during the April 20 show. The first act included powerful spoken word pieces by second-year student Stanley Gutiontov, dancing by the Feinberg Salseros, and two groups of classical music arrangements. The Jugulars – Feinberg's juggling interest group – brought the audience on a comical journey through the history of their hobby. What started with cavemen tossing kindling, ended with a life-saving procedure … all with three balls in the air.  
First-year medical student Anna Whelan enjoyed her time in the crowd as much as on stage with Docapella. 
"Medical school can be stressful and we all love to have a creative outlet, whether it be salsa, singing, or playing the guitar," she said. "Fusion provides this great opportunity to get away from studying and to see what our classmates can do. Part of the reason each of us is at Feinberg is because of our broad skillset, so it is no surprise that when we all get together we are treated to world class performers."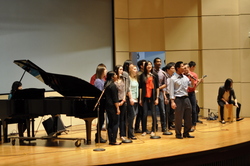 Act two brought with it the magic of first-year student Prince Nzeata, south Asian dancing, opera, American folk music, and more. The show culminated with the annual fashion show, highlighting how clothing is embedded in the history, values, and traditions of many cultures. 
"There is always a bonding experience that happens when you are a part of a performance group and I think Fusion only helps the community of Feinberg come together even more," said Board co-President Manan Mehta. 
Proceeds from this year's benefit went to five student organizations: the Devon Clinic, Chinatown Clinic, New Life Volunteering Society, Apna Ghar, and the Asian Pacific American Medical Student Association Community Service Project. These clinics and charities provide health-related services to underserved populations across Chicago. They also offer Feinberg students invaluable opportunities to gain experience in healthcare delivery. 
Fusion 2013 was coordinated by a first-year student board of directors that included: Nitin Goyal, Manan Mehta, Daniel Colon Hidalgo, Sonia Shah, Sujata Saha, Gokila Pillai, Eric Chan, Ji Yeon Seo, and Byron Ho. 
"We put together this show with the hope of celebrating culture and diversity among the Feinberg community while raising money for local charities," Goyal said. "When we say these charities are local, we mean emotionally local. Several of us are personally involved with these organizations, which is why we have put so much time and effort into this fundraising event."