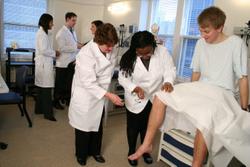 The Accreditation Review Commission on Education for the Physician Assistant has moved the accreditation status of the Northwestern University Feinberg School of Medicine Physician Assistant (PA) Program from provisional to continuing. The program, which launched in 2010, received the rare achievement of 100 percent compliance. 
"All of the hard work developing the program, selecting students, and delivering the curriculum has paid off," said James Van Rhee, MS, PA-C, PA program director. "We have seven years until we are next reviewed, but that doesn't mean we stop evaluating the program or improving upon it."
Part of the Department of Medical Education, the PA program accepts 30 students each June. One-thousand nine-hundred hopefuls applied to be a part of the Class of 2014. 
The inaugural class earned their Master of Medical Science degrees in 2012 after one year of classroom instruction and one year of clinical rotations. The program was developed with support from Northwestern Memorial Hospital and uses problem- and team-based learning designed to complement a physician assistant's training.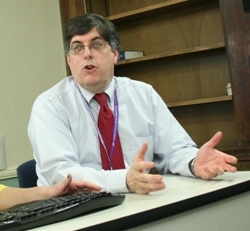 "This accreditation is a testament to the team of faculty and staff it takes to develop a program of this stature," said Raymond Curry, MD, vice dean for education. "The medical school is committed to developing and delivering a curriculum that will make our graduates future leaders of the PA profession." 
Physician assistants are health professionals who practice medicine as members of a team with their supervising physicians. As part of their comprehensive responsibilities, they conduct physical exams, diagnose and treat illnesses, order and interpret tests, counsel on preventive health care, assist in surgery, and prescribe medications. 
The Accreditation Review Commission on Education for the Physician Assistant is the accrediting agency that protects the interests of the public and physician assistant profession by defining the standards for PA education and evaluating educational programs to ensure their compliance with those standards. There are 170 ARC-PA accredited programs in America.