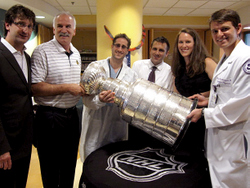 Three thousand six hundred seconds of volatility. 
That's what Michael Terry, MD, associate professor in orthopaedic surgery, considers a hockey game. As the season begins January 19, the team physician for the NHL's Chicago Blackhawks will watch each moment of the 2013 campaign pass with unique perspective. For him, the action may follow predictable patterns, but the injuries do not. 
"There are times where you are really busy and things become emergent because somebody is bleeding or unconscious, and then there are times when I can just watch the game and enjoy it," said Terry, who has been with the team since 2005. "The likelihood of injuries can depend on a lot of things, but most of the time you really can't foresee when you're going to be needed."
Each season, Terry begins his routine anew. He'll repeat it dozens of times. Arriving two hours before the start of each game, his primary responsibilities include assessing players and determining who is medically cleared to take to the ice. From there he manages a multitude of chronic injuries, before turning his attention to those players forced out of action for extended periods of time. 
As the team skates through each of three 20-minute periods, Terry stands at the ready, a position he didn't imagine being in after graduating from the University of Illinois with a degree in mechanical engineering. 
"When I grew up, I wasn't really sure what I wanted to be down the road, and when I went off to college, I was planning on being an engineer." Terry said.  "What really drove me to sports medicine was the type of surgery. I found Arthroscopy to be very precise and challenging." 
As Terry's interests evolved – from mechanical engineering, to bio-engineering, to medical school, to orthopaedics – his enjoyment in the variety of tasks associated with sports medicine was realized. Today, he not only does works as a team physician, but also as a clinical practitioner. 
"It's one of those unique fields where you get to take care of people of all ages and with very different types of injuries," he said. "I find myself doing hip surgery on a 60 year old one day and a knee procedure on a teenager the next."
After attending University of Chicago Pritzker School of Medicine, Terry completed his residency at Cornell's prestigious Hospital for Special Surgery. He then took a sports medicine fellowship at the Steadman Hawkins Clinic in Colorado.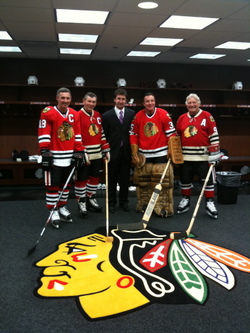 A member of the Feinberg faculty since 2009, Terry also acts an assistant team physician for Northwestern Athletics and team physician for the U.S. Olympic volleyball team and the U.S. ski team. 
"The Northwestern athletes are really a fantastic group to take care of because they are so bright and they have so much poise; it's impressive," Terry said.  "They attend a world-class university and are student-athletes in every sense of the word, meaning they have a wide variety of pressures." 
Although the role of a physician can vary from sport to sport, the one constant remains looking after the team's medical health from top to bottom. In the locker room or on the bench for a vast majority of Blackhawks games, Terry doesn't get an off-season either. 
Instead, he is on-call 24/7. Because of the nature of player trades in professional sports, team physicians can play a particularly interesting role. If an athlete ends up in Chicago with no primary-care physician and someone in his family falls ill, it's Terry who'll get the call. 
His duties with the Blackhawks, of course, are just a fraction of his daily responsibilities. 
"The interesting thing about the surgical aspect of my career is that the patients are covered up. Once you drape a patient, whether they are a superstar or a seventh-grader, they become a bit anonymous. I think I let that anonymity creep in to a certain degree because at some level it should just become the task at hand." 
Although Terry does a majority of the surgeries for the Blackhawks, when injuries occur outside of his area of expertise – requiring a hand or spine procedure for instance – he counts on a network of physicians at Feinberg and around the city for help. 
"There's a lot of back and forth among doctors, and it's nice when you have high-level people just down the hall," he said. "It's easy to speak to them and I think especially when you are dealing with decisions that aren't black and white, it's often times good to have that sounding board." 
An expanding field, sports medicine continues to attract the next generation of physicians attuned with treating sports injuries. Over the summer, Terry had multiple medical students spend time working in his office, and he enjoys the fact that they keep him on his toes. 
"You don't know what they are going to ask next, but you have to have an answer," he said. "Just about every day we have someone working with us who is just trying to learn. The students here are really great."
Growing up in suburban Chicago, Terry took to the pond for pickup games of ice hockey and watched the professional team skate from time to time. Today, he is part of an organization that has allowed for his friends and family to share in the team's success. 
"There is probably no organization that is more inclusive, certainly of the doctor's family, than the Blackhawks," said Terry, whose parents take road trips with the team and whose three children can watch their father work. "When my family is at the stadium they feel like they are really a part of the organization, which is really special now that my kids are getting older. It makes some of that time away more easily understood."