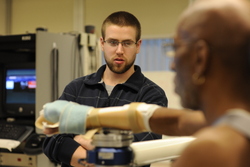 The joint Doctor of Physical Therapy and PhD in Engineering program at Northwestern University Feinberg School of Medicine marries two disciplines for one clear benefit: improved rehabilitation therapies and technologies for patients with movement disorders. 
The only degree of its kind in the country, graduates are trained to focus on identifying and solving existing or potential problems of human movement dysfunction. In conjunction with clinical training, students complete doctoral research through the Robert R. McCormick School of Engineering and Applied Science in the Departments of Biomedical Engineering, Mechanical Engineering, or Electrical Engineering/Computer Science. 
Program participants begin their journey in the school of engineering and move onto DPT coursework after passing the qualifier exam for PhD candidacy. The curriculum is designed to be finished in seven or eight years, with three years spent completing the DPT and four or five on the PhD. Graduates from the DPT-PhD (Eng) program are trained to become new leaders in engineering, rehabilitation sciences, physical therapy, and device development for the study and restoration of human function in the academic, governmental, healthcare, and industry environments.  
"I have always been interested in how the body moves and the ability of the body to rehabilitate and heal itself after injury," said Benjamin Binder-Markey, who recently began his DPT coursework. "When I was looking at graduate schools I wasn't sure exactly what career path I wanted to follow, did I want a more engineering/biomechanics research career or a clinical/physical therapy career? When I found this program, I didn't have to choose, I could do both."
Binder-Markey has spent the past three years working on his PhD and beginning his thesis. Using musculoskeletal models, he's trying to understand how healthy individuals control their fingers and hands, and how changes within the muscles and structures may affect individuals after they have suffered a stroke. Having started PT school, he has shifted gears from working on his own research to being in the classroom full time. 
For seventh-year student Laura Miller, it was a college internship in the lab of Jules Dewald, PT, PhD, chair of physical therapy and human movement sciences and professor of physical medicine and rehabilitation, that got her thinking of a future where she could combine interests in engineering and neuroscience. 
"I saw how important it would be for an engineer to have the clinical perspective of a physical therapist when developing rehabilitation robotics and other devices to help patients regain motor function," she said. "While I wanted to pursue a PhD, I also wanted the human aspect of interacting with patients. Joining the DPT/PhD(Eng) program seemed to be a great opportunity." 
Having graduated with her DPT in April, Miller took the PT licensure exam last summer and has started working as a part-time inpatient rehabilitation physical therapist, while returning to her PhD research. 
"What is nice about an engineer-physical therapist is that they can talk two languages without an accent," said Dewald, who is also a professor of biomedical engineering in the Robert R. McCormick School of Engineering and Applied Science. "They can talk the engineering language and they talk the movement disorder pathophysiology language as well, seeing both sides of the equation. In that regard, these graduates are going to be highly sought after, highly unique individuals." 
Students admitted to the program receive financial support for their DPT and PhD education through a training grant from NIH/Howard Hughes Medical Institute and generous support from the medical school. 
For more information about the program, please visit their website.