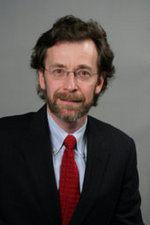 Bill Muller, MD, PhD, chair of pathology, has been awarded the American Society for Investigative Pathology's most prestigious honor. First conferred in 1976, the Rous-Whipple Award is bestowed to a senior scientist who not only possesses a distinguished career in research, but also continues to advance the understanding of disease. 
"I am truly humbled that the society has such a high regard for my past research and even more encouraged that they believe, as I do, that the best is yet to come," said Muller, Magerstadt Professor of Pathology. "The most meaningful aspect of this award, however, is the list of past recipients that I join. Previous winners include at least one Nobel laureate, several of my former mentors, and the previous chair of this department." 
Muller arrived at Northwestern University Feinberg School of Medicine in 2007 with the goal of creating collaborations among investigators studying inflammation, immunity, cancer, wound healing, and homeostasis. The successful organization of an inflammation research weekly seminar series has brought together a university-wide, multi-disciplinary group focused on these topics. 
In the laboratory, Muller studies the molecular and cellular basis of how white blood cells, or leukocytes, cross blood vessels to enter tissues, a critical point for the regulation of the inflammatory response. His team has shown that interactions between CD31 and CD99, two adhesion molecules expressed on endothelial cells and leukocytes, are required for leukocytes to cross blood vessels. 
"The discoveries of how CD31 and CD99 regulate inflammation are among my biggest career accomplishments thus far," Muller said. "Most recently we have discovered a novel 'organelle' in endothelial cells, the lateral border recycling compartment (LBRC), that appears to be a scaffold on which all molecules relevant to trans-endothelial migration depend. We have begun to unravel the mysteries of how the LBRC functions and I believe this has the potential to be the most significant and transformative research from my lab to date." 
Muller will deliver the Rous-Whipple lecture and receive the award during the Experimental Biology Meeting this April in Boston. 
"In the future I hope to use the resources at Feinberg to build collaborations with other investigators studying models of inflammatory diseases in order to determine whether strategies to block the LBRC will work in their disease models," Muller said.