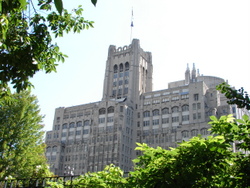 Northwestern Medicine has launched an ambitious new Institute for Public Health and Medicine that will double its faculty who work at the interface of medicine and public health with 60 additional positions and focus on improving the health of Chicagoans and other populations. It also takes a fresh approach to public health research.
The new institute is unusual because it combines public health researchers and clinical researchers in the same space — an effort to speed discoveries to health care and public health providers, patients, and communities. Also novel: bringing in engineers, who haven't before been invited to contribute to health care and public health strategies.
Most universities segregate public health faculty from medical faculty into separate schools and the two groups collaborate infrequently. Thus, solutions to health problems get implemented separately in healthcare (hospitals, clinics, doctors' offices) or community settings and are rarely integrated for maximum benefits.
Engineers will have their own center in the institute and will apply their skills to make hospital processes more efficient, such as the scheduling of operating rooms. Another major effort will be to use electronic health records to change physician behaviors and improve patient care and safety.
"We're trying a new approach to come up with more effective and efficient solutions for health and health care problems," said Rowland Chang, MD, MPH, director of the new institute and senior associate dean for public health at Northwestern University Feinberg School of Medicine. The faculty will be working closely with Chicago's department of public health among other community partners.
In addition to growing the faculty working in the medicine and public health space, the institute will finance innovative pilot projects with the goal of leading to large National Institute of Health funded studies, Chang said.
The Institute for Public Health and Medicine will be housed in three buildings on the Chicago campus including two newly renovated floors in 633 N. St. Clair. Many of the new recruits working in this medicine and public health space will be on the clinical side: internal medicine, emergency medicine, psychiatry, physical medicine and rehabilitation, pediatrics, and obstetrics and gynecology, among others.
Diabetes and childhood obesity, among other common, chronic health issues, will be a big focus. Scientists studying these diseases will increase their collaboration within the university and with community health agencies in Chicago to find solutions for these growing public health threats.
"These are the low-income communities of the greatest need," Chang said. "They are disadvantaged in terms of health care resources and they represent the populations at higher risk for developing chronic disease." 
One big challenge: how can important findings from small research studies be translated and implemented successfully in the real world? Ron Ackermann, MD, MPH, who directs community health, is charting this rocky path in his own research within the institute.
Ackermann, associate professor of medicine at Feinberg, has shepherded what began as a small local study to prevent diabetes into a national trial program for 6,000 participants at 50 city locations of Y of USA in partnership with UnitedHealthcare. The weight loss and exercise program was found in prior research to slash by 60 percent the number of people with high blood sugar who go on to develop diabetes.
But even with positive results, his challenge is to help insurance companies, Medicare and other organizational leaders decide whether to pay for the program. Ackermann has consulted with them to answer the question: What research results aren't we giving you in order for you to decide that a diabetes prevention program should be on every street corner?
His team has learned funders want to know how much the program will cost in the short term, whether the right people will actually participate, and whether participation can save other health care expenses (by lowering medication costs, for example) in the near future.
"With these decision makers at the table, we're now trying to design the research to answer questions that are creating roadblocks for organizations or public agencies to implement these programs or interventions," Ackermann said.