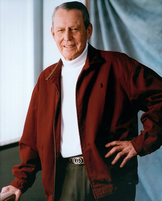 Thomas Starzl, MD/PhD '52, ​who performed the first successful liver transplant in 1967, received the 2012 Lasker-DeBakey Clinical Medical Research Award in honor of his role in the development of liver transplantation.
Starzl, Distinguished Service Professor of Surgery at the University of Pittsburgh School of Medicine, earned a master's degree in anatomy, a doctoral degree in neurophysiology, and a medical degree with distinction from Northwestern. Known as the father of transplantation, Starzl also conducted the first multiple organ transplant in 1983, the first heart and liver transplant in 1984, and the first liver and intestine transplant in 1990. In 1980 he introduced the anti-rejection medications anti-lymphocyte globulin and cyclosporine. He was also instrumental in developing tacrolimus, a drug that significantly increased survival rates in transplantation patients. Starzl served on the Feinberg faculty from 1958 to 1961, and was elected into the Institute of Medicine in 1999.
Starzl joined the University of Colorado School of Medicine as an associate professor in surgery in 1962 before taking his current post with the University of Pittsburgh School of Medicine. Northwestern presented Starzl with an honorary doctor of science degree in 1982. In 1996, the University of Pittsburgh's transplant center was renamed the Thomas E. Starzl Transplantation Institute, where he still devotes his time to research and as a professor today.
The Lasker-DeBakey Clinical Medical Research Award honors investigators whose contributions have improved the clinical treatment of patients. They are among the most respected science prizes in the world. Since 1945, the program has recognized the contributions of scientists, physicians, and public servants who have made major advances in the understanding, diagnosis, treatment, cure, and prevention of human disease.