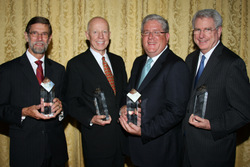 In recognition of his more than four decades of distinguished service, Darwin Labarthe, MD, PhD, MPH, professor in preventive medicine, was recently presented the American Heart Association (AHA)'s 2012 Gold Heart Award.
The award, the highest honor the association gives, was presented at a banquet in Dallas on June 26.
An AHA volunteer since 1971, Labarthe founded and for 25 years directed the U.S. Ten-Day Teaching Seminars on the Epidemiology and Prevention of Cardiovascular Disease. In 2007 he received the association's Eugene Braunwald Academic Mentorship Award in recognition of his career as one of the nation's foremost mentors in cardiovascular science.
"This is an extraordinary honor because the Gold Heart Award isn't earned or achieved, it's bestowed," Labarthe said. "I'd say my success is an interaction between good fortune and opportunity. Without good fortune, or overcoming misfortune, opportunity would have been missed. Without ripe opportunity, good fortune would have gone to waste."
Labarthe came to Northwestern University Feinberg School of Medicine in 2011 after serving as the inaugural director of the Centers for Disease Control's Division of Heart Disease and Stroke Prevention since 2006. Respected worldwide as an authority on cardiovascular prevention, Labarthe has provided expertise as a member of several task forces that developed critical AHA scientific positions, guidelines and statements, including the 2020 Impact Goal to improve the cardiovascular health of all Americans by 20 percent while reducing deaths from cardiovascular disease and stroke by 20 percent.
"Looking ahead to 2020, and considering AHA's revolutionary commitment to improve the cardiovascular health of all Americans, we can feel opportunity pulling us forward," Labarthe said. "All Americans are beneficiaries of the Impact Goal. If your cardiovascular health is ideal, AHA is working to preserve it; if it's intermediate, AHA is working to improve it; if it's poor, AHA is working to reverse it."
The American Heart Association is devoted to saving people from heart disease and stroke – America's No. 1 and No. 4 killers. The AHA teams with millions of volunteers to fund innovative research, fight for stronger public health policies, and provide lifesaving tools and information to prevent and treat these diseases.