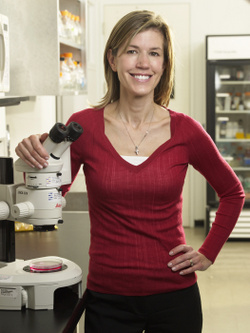 Susan Quaggin, MD, an international authority in the field of nephrology, will join Northwestern University Feinberg School of Medicine as the Charles Horace Mayo Professor of Medicine, and serve as director of the Feinberg Cardiovascular Research Institute (FCVRI) and chief of the Division of Nephrology, effective January 2013.
"As one of the world's most dynamic and creative investigators in the fields of nephrology and vascular biology, Dr. Quaggin will make an outstanding addition to the Feinberg faculty," said Eric G. Neilson, MD, Feinberg's vice president for medical affairs and Lewis Landsberg Dean. "Her career has been built around the pursuit of novel genetic methods to understand the complexity of capillary formation in health and disease, and her leadership will undoubtedly shine an international spotlight on the division and our cardiovascular research institute."
A graduate from the Faculty of Medicine at the University of Toronto, Quaggin received her specialty degree in internal medicine in 1992. She completed subspecialty training in nephrology at the University of Toronto and did a post-doctoral fellowship at Yale University, where she studied the genetic basis of kidney development. In 1997, she returned to Toronto for a second post-doctoral fellowship in complex mouse genetics in the renowned laboratory of Janet Rossant, and then went on to establish her own stellar program in vascular biology. She comes to Feinberg following long tenure as a scholar and professor of medicine at Toronto, where she currently holds the Gabor-Zellerman Chair in Medicine. A senior scientist with the Samuel Lunenfeld Research Institute at Mount Sinai Hospital, she also is a practicing nephrologist at St. Michael's Hospital.
"Dr. Quaggin's arrival extends the impact and competitiveness of Feinberg, and her perspectives will reinvigorate the FCVRI and take research orientation in some new and exciting directions," said Douglas Vaughan, MD, Department of Medicine chair. "Her leadership will be a magnet for future talent, and I expect she will immediately accelerate and grow our basic research in nephrology,"
Quaggin's major research focus is on the genetic and molecular pathways that establish and maintain complex capillary structures, particularly those forming the renal glomerular filtration barrier — a highly selective filter that separates circulating blood from the urinary space in the kidney. She has chaired many international research meetings and review panels and is the rising program chair for the 2014 national meeting of the American Society of Nephrology. The recipient of the 2009 Medal for Excellence from the Kidney Foundation of Canada, she is also deputy editor of the Journal of the American Society of Nephrology, the leading kidney journal in the world, serves on the editorial boards of several other journals, and is an elected councilor of the American Society for Clinical Investigation and the International Society of Nephrology. Quaggin was recently named an Academy of Finland Distinguished Professor.