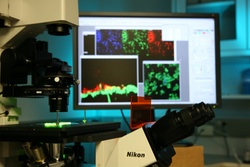 Northwestern University Nikon Imaging Center-Cell Imaging Facility (NICCIF) is the first American imaging center to become a member of the EuroBioImaging Consortium.
The EuroBioImaging Consortium is a large, multinational imaging network of 39 imaging centers from 12 countries across Europe. Labs included in the consortium are able to share imaging equipment through talent and technology exchanges.
"Northwestern has a collaborative environment with an effective pipeline for nascent instrumentation development to be transferred into biomedical needs," said Teng Leong Chew, PhD, NIC-CIF director and research associate professor in Cell and Molecular Biology. "In addition, there is a well established collaborative partnership between Northwestern imaging centers and various microscopy companies. More importantly, we offer more than just instrumentation. The NIC-CIF, for example, provides a platform that integrates photonics, imaging techniques, training, and fundamental cell biology. This is exactly the kind of intellectual environment that the European Union was looking for when selecting its first American partner."
Preliminary meetings to form the EuroBioImaging Consortium took place in spring of last year, and Chew was invited as the American liaison to join the discussion in August.
Starting late 2011, the NIC-CIF began hosting EuroBioImaging graduate students for laboratory rotation to learn advanced live cell imaging techniques and the latest imaging technologies. In March 2012, a team of biophysicists from Finland came to Northwestern for one week to visit the photoacoustic imaging lab in the Department of Biomedical Engineering.
Plans are also in place for another group to visit NIC-CIF to use the facility's brand new, Nikon structured illumination microscope (N-SIM), which is capable of breaking the diffraction limit of light in order to view multicolor images of live, biological samples.
"They were very excited about our Nikon equipment because of its unique ability to combine multiple fluorophores and live-cell imaging that exceeds the conventional diffraction limit," Chew said.
The Finnish team will return to Northwestern this summer to further learn about the advanced photonics of photoacoustic microscopy. Chew said one of the benefits of hosting visitors is that they greatly streamline the exchange and cross-fertilization of scientific ideas.
"We will also be able to invite some of the imaging experts to teach in our imaging workshops," Chew added.
Northwestern now also has access to instruments from European labs that are members of the consortium. Chew is taking his own lab members to the University of Turku in Finland this August. In addition to teaching a hands-on microscopy course, he will work on his own research, as well as test instruments to compare them to those at NIC-CIF. He is especially excited to use the university's stimulated emission depletion (STED) microscope.
"The idea of STED microscopy was first developed by Dr. Stefan Hell of Max Planck Institut and Dr. Pekka Hänninen while they worked together in Turku," Chew said. "So it is great to have the opportunity to visit the birthplace of the STED concept and to work with Dr. Hänninen on super resolution microscopy. It will give us an opportunity to set the stage for efficient utilization of the latest STED and N-SIM technologies among our intercontinental partners."
While Northwestern is the first American partner to be included in the EuroBioImaging Consortium, Chew expects that the consortium will gradually grow to incorporate other U.S. institutions.
Article courtesy of the Northwestern University Office for Research