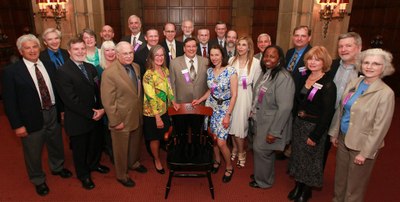 More than 1,000 years of medical school experience was on-hand Wednesday evening to honor the 48 faculty members celebrating 25 years of service at Northwestern University Feinberg School of Medicine.
Representing 35 specialties, the new members were invited guests alongside the hundreds of current and former faculty to have reached this impressive milestone. The annual dinner and reception was held on May 16 at the University Club of Chicago.
"Our senior faculty are the bedrock of our institution," said Eric G. Neilson, MD, vice president for medical affairs and Lewis Landsberg Dean at Feinberg. "Without them, we couldn't teach or mentor our students and trainees, expand our clinical enterprise, or increase the body of medical scientific thought and knowledge with discoveries from the research laboratory.  They are a critical component in every element of our mission and their years of service have helped to elevate our stature."
Patrick Birmingham, MD '83, associate professor in anesthesiology, remembers fondly his first day on the job. The year was 1987, Ronald Reagan was in the White House, and a gallon of gas cost less than a dollar. It also happened to be his 30th birthday.
"I am a Chicago native, but had done my residency training at the University of Washington," he said. "People couldn't believe I would leave a high-quality medical community and wonderful lifestyle in Seattle to return to the Midwest. I carry no regrets and remain humbled and proud to be a part of the Feinberg community."
Excited by the June 9 opening of the Ann & Robert H. Lurie Children's Hospital of Chicago, Birmingham says a lot of things have changed since he first stepped foot on the Northwestern campus.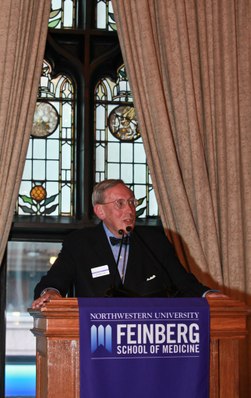 "Medical school and the practice of pediatric anesthesiology, my specialty, has changed in ways I could not have imagined," he said. "Leslie Arey, a distinguished Northwestern University professor, told us as students that we would look back on our medical school training and it would seem like the horse-and-buggy era compared with our modern viewpoint. That idea really stayed with me, and was pretty much right on."
As part of the recognition of these long-serving faculty members, Dean Neilson presented each new honoree with a personalized chair, their name engraved into the hardwood maple.
"We are fortunate to have outstanding facilities to support the educational, clinical, and research missions of the medical school, but the lifeblood of the institution is the faculty," said Bill Lowe, MD, vice dean of academic affairs. "Not only are their personal contributions to our mission critical, but they play a vitally important role as mentors for the many junior faculty who join the institution each year."
Eric Russell, MD, chair of radiology, cherishes his role as senior faculty.
"It is the relationships and friendships I have been able to make over the years that are the reasons for my 25 years of success," said the Drs. Frederick John Bradd and William Kennedy Professor of Radiology.
"The department has evolved greatly over the years and is now a much more basic science, research-oriented department. I have taken pride in chairing the department and I find it highly rewarding to help others succeed."
The chief resident of internal medicine in 1987, Daniel Derman, MD, assistant professor of clinical medicine-general internal medicine and geriatrics, credits the atmosphere at Feinberg for his long career. As a rewarding place to both teach and learn, he looks at what is going on at the medical center and wishes he could earn his degree all over again.
After two and a half decades of upgrades to both the curriculum and campus, those in attendance at the 25-year celebration found themselves looking back on the past while remaining excited about molding Feinberg's future.
"I have had so many opportunities here and I think what I have appreciated the most is the growth in my network of colleagues and friends around the world," said Kathleen Green, PhD, Joseph L. Mayberry, Sr. Professor of Pathology and Toxicology. "Just as my more senior mentors helped me early on, I now enjoy the opportunity to give back by helping others."