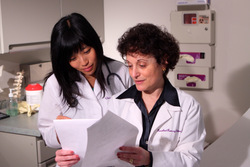 "Women continue to be underrepresented in almost all aspects of science and healthcare. Most clinical trials are still conducted exclusively on men, males outnumber females in most scientific disciplines, and there are fewer women physicians and scientists, especially in leadership positions," said Nadia Reynolds, program manager at the Institute for Women's Health Research at Northwestern University.
It's issues such as these that spurred the U.S. Department of Health and Human Services' Office on Women's Health to develop National Women's Health Awareness Week, which runs Sunday, May 13 through Saturday, May 19 this year. The goal of the event is to bring together communities, businesses, government, health organizations, and other groups to promote women's health. The institute is joining in the efforts on Tuesday, May 15, with a half-day special event.
"National Women's Health Week encourages women to make their health a top priority, and it is an important way to recognize and support the work we still need to do in order to achieve parity for women's health," said Reynolds. "And while the tide is changing, there is still much progress to be made. Celebrating our advancements in terms of women's health and women in science and healthcare professions is important."
The institute's event includes a keynote address by Molly Carnes, MD, MS, a professor in the Departments of Medicine, Psychiatry, and Industrial & Systems Engineering at the University of Wisconsin. She will present the lecture "Increasing Women's Leadership in Academic Medicine and Science: What's Taking So Long?"  A poster session will feature basic, translational, behavioral, and clinical research on women's health, while an exhibit will feature health providers who offer clinical services that are female friendly.
 "Women's health has been in the news a lot recently and we're hoping that this event can create an exciting dialogue about important new research findings in this area," Reynolds said.
This is the second year the institute has hosted the event. They expect more than 250 people to attend, more than triple the number of the inaugural event.
"We wanted this event to be open to everyone in the area, so we have representatives from other institutions attending and exhibiting or presenting their research.  We are hoping to continue to grow, to feature a more diverse array of exhibitors and presenters, and to attract more women to the event in the future," said Reynolds.
The event is free and open to researchers, clinicians, students, and the general public. Registration is required.