This year's Alumni Weekend was the first time Northwestern University Feinberg School of Medicine had an alumnus celebrating his 70th-year reunion in attendance. George Bulkley, MD'42, professor emeritus in the Department of Urology, joined almost 600 other alumni, guests, faculty, and students on April 27-28 for two days of fun and education.
The weekend's activities started with a continuing medical education program. Rex Chisholm, PhD, vice dean for scientific affairs and graduate studies, moderated a panel of faculty speaking on topics such as plague, schizophrenia, autoimmune diseases, and nanotechnology.
Alumni were then invited to be the first to visit the newly renovated Method Atrium and Alumni Hall in the Ward Building. Updates include a remodeled hallway, historic photos, TV screens, and a donor wall. Eric G. Neilson, MD, vice president for medical affairs and Lewis Landsberg Dean, welcomed alumni to the new space and explained that its use will change from an entrance way to an area for receptions and gatherings. Following lunch, Neilson presented a medical school update, outlining Feinberg's strategy and vision to become a top academic medical school and research center.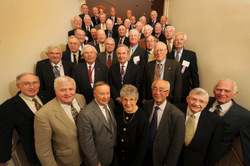 Opening day festivities also included the Daniel Hale Williams Reception: Celebrating Two Decades of Diversity Initiatives at Northwestern, hosted by the Office of Diversity. Approximtely 100 alumni, faculty, staff, and students were in attendance. John Franklin, MD, associate dean of minority and cultural affairs, gave a toast to kick off the event and talked about current diversity initiatives.
"My favorite part of the weekend was the Daniel Hale Williams Reception," said Paloma Toledo, MD'03, MPH'11, instructor in anesthesiology at Feinberg. "I can see how much the medical school has grown from when I attended. It is exciting to learn how much diversity the incoming class has and the commitment the school has to diversity."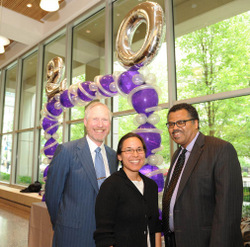 Also a member of the alumni board, Toledo said it was great to meet alumni from other class years.
"Initially I thought I would have nothing in common with other alumni, but we talked about Northwestern and had shared experiences," she said. "I realized that I'm not just a point in time with my class, but a part of a bigger community, part of a legacy."
The day also included a Northwestern University Honors Program in Medical Education (HPME) reception, Department of Preventive Medicine Open House, bioethics and retirement workshops, Nathan Smith Davis Recognition Program Reception, and class dinners.
"I have a fondness for Northwestern and a love for the medical school," said Charles Koopmann, MD'69. "My four years here were great, and it is also great to see how the program has changed. Students are encouraged to take more varied courses and have opportunities for joint degrees such as studying the humanities and obtaining a Masters in Public Health."
Saturday's events included an alumni association meeting, Chicago Architecture Foundation tour, and lunch for alumni scholarship award recipients. Current students had the opportunity to meet with alumni during a mentoring and career planning session.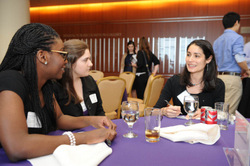 Paul Devlin, a first-year medical student, attended the HPME reception and the mentoring event.
"I was able to hear the stories of people who have gone through the program, who have travelled this path before," he said. "They have so much information to share and are willing to help. Speaking with our alums, I received tips, advice, and a better perspective on specialties, practice models, and residencies."
Presentation of the Distinguished Alumnus Award to Eugene A. Bauer, MD '67, and the Dean's Award to Andrew D. Bunta, MD '67, vice chair of the Department of Orthopaedic Surgery, at the Reunion Ball rounded out the weekend.
"Looking back, the best part of medical school was the personal interactions not just with students, but with various professors whose advice and mentoring made a huge difference in my life," said Bauer. "Professors at Feinberg gave us a feeling of empowerment and possibility. They prepared us to go out into the world, and instilled in us the belief that education is a lifelong endeavor."