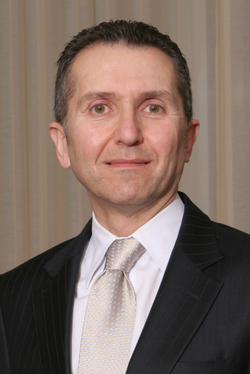 Serdar Bulun, MD, chief of reproductive biology research, has been named the new chair of the Department of Obstetrics and Gynecology at Northwestern University Feinberg School of Medicine, and obstetrician-gynecologist-in-chief at Northwestern Memorial's Prentice Women's Hospital.
Since starting the division of reproductive research in 2003, Bulun, George H. Gardner Professor of Clinical Gynecology, has orchestrated major research initiatives, the results of which have made a broad impact on the health of millions of women. As principal investigator, Bulun received a P01 grant in 2010 to sustain the only National Institutes of Health supported comprehensive uterine fibroid research center in the country. During his career, Bulun's team has been awarded nearly $40 million in research funding in the areas of uterine, breast, and placental disorders.
"We are pleased to announce the appointment of Dr. Serdar Bulun to chair of the Department of Obstetrics and Gynecology," said Eric G. Neilson, MD, Feinberg's vice president for medical affairs and Lewis Landsberg Dean. "He is an acknowledged leader in the understanding and treatment of women's health issues. As chair, his rich clinical and research experience will help him further the reputation of a department that is already recognized as one of the best in the nation."
"We congratulate Dr. Bulun on his appointment and believe he is the right leader for our Department of Obstetrics and Gynecology at this time in our history," said Dean M. Harrison, president and chief executive officer, Northwestern Memorial HealthCare. "His research has led to important contributions in women's health as well as helping to advance our plan for Northwestern Medicine."
Bulun's contributions to the understanding of endometriosis, a disorder of the uterus, and his novel use of aromatase inhibitors to treat it, earned him a National Institutes of Health MERIT Award in 2010. He is a member of the American Society for Clinical Investigation and was recently elected to serve as president of the Society of Gynecologic Investigation in 2015.
"It is a true privilege and honor to serve as chair of the Department of Obstetrics and Gynecology," Bulun said. "Our faculty members are outstanding individuals providing internationally acknowledged training and research. Moving forward, I plan to capitalize on those strengths and integrate them more effectively within our department and with other departments across Northwestern. I anticipate that this process, in the long run, will create a positive shift toward the development of novel programs in patient care, education, and research."
Bulun replaces Sharon Dooley, MD, GME '77, who has served as interim chair of the department since January 1, 2011. Dooley, who was the senior associate dean for graduate medical education for more than decade, has been working in maternal-fetal medicine at the medical school since 1980.
"We deeply appreciate Dr. Dooley's commitment to our patients, Feinberg and Northwestern Memorial Hospital," Harrison said.
According to Dean Neilson "she epitomizes what we look for in our faculty– dedication, tremendous skill, and compassion for patients. Please join us in thanking her for her outstanding service as interim chair."