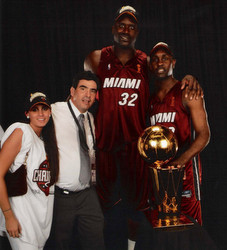 Sports fans aren't likely to recognize the many Northwestern University Feinberg School of Medicine graduates and faculty members roaming America's sidelines. They may take note, however, of the Olympic medals, championship rings, and national awards on their résumés.
One such graduate, Harlan Selesnick, MD, GME '80, has been the team physician for the Miami Heat since the franchise began playing basketball in 1988. He's also become an accomplished orthopaedic surgeon in that time, a dual role he hadn't really thought about before enrolling at Feinberg.
"When I was in medical school I didn't know what field I wanted to go into," Selesnick said. "As a first year, a mentor of mine exposed me to the clinical side of orthopaedic surgery and I read an article in the New York Times about the new field of sports medicine. I think most orthopaedic surgeons are frustrated athletes in one way or another. I realized I was never going to have a career with the Bulls, so I figured a career in sports medicine was the next best thing."
That decision ultimately landed him a role as an assistant to the team physician with the Chicago basketball franchise he knew he'd never play for. David Bachman, MD '62, the director of the medical school's Center for Sports Medicine and the Bulls team physician at the time, helped expose Selesnick to the field. In the early '80s the Bulls were floundering, but the team and Selesnick would soon be set on championship-laden paths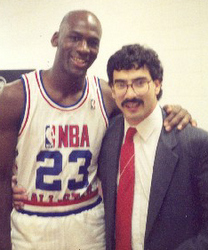 "I remember when the Bulls drafted Michael Jordan because I helped do his first physical," said Selesnick, who worked under team physician H. Bates Noble, MD, '70, from 1980 to 1984 and during the 1983 and 1984 pre-draft rookie camp in Chicago. "As a resident, I was able to get involved, even in some of the games, something that would never happen in this day and age. The first day Michael took to the practice floor he dunked the ball twice over center Jawan Oldham. You knew he was going to be a spectacular player."
Selesnick moved to Miami in 1985, where he raised two daughters and lives with wife, Randy, BSSP/MA '81. A board-certified surgeon with a focus on arthroscopic surgery, sports medicine and knee-joint replacement, Selesnick is also the team physician for Miami-Dade College, the Sony Ericsson Tennis Championships, Dania Jai Alai, and Miami Jai Alai, a team sport where opposing players alternate hurling a ball against a wall and catching it. Until recently, he wrote a bi-weekly sports medicine question-and-answer column for the Miami Herald.
"The first thing to realize is that most of my patients are recreational athletes who go out and hurt something," Selesnick said about working with Lebron James one day and a 10th-grader the next. "The same treatment principals apply if you are working on a star athlete or a high school student. You need to provide an accurate diagnosis and the right type of rehab to get the injury better and prevent re-injury.  When you're working on a professional athlete and you know that several million people are going to read about it, there's a little more pressure, but there is an awesome responsibility related to all surgeries."
Having published more than 40 papers since leaving the medical school, one of his long term research projects involves analyzing the work done each year in predicting the career longevity of NBA players.
And longevity is something Selesnick knows a little bit about. Although most team physicians stay with an NBA franchise for four to five years, Selesnick said great trainers and great management are to credit for his nearly quarter-century stay in Miami.
That support allowed for two of his most memorable moments on the Heat sideline: A return trip to Chicago during the 1991 playoffs and the celebration with his family following Miami's first NBA Championship in 2006.
"It was also always a dream of mine to go to the Olympics, let alone to be a part of them," Selesnick said. During the 2000 Sydney Games, he was the team physician for the men's basketball Dream Team that won a gold medal.
His accomplishments and world travels aside, Selesnick still looks forward to annual trips back to the Windy City.
"I loved my time at Northwestern. Both the college and medical school were fantastic," he said. "I still keep in touch with many classmates and continue to come back for the rookie combine each year. The contacts I made at Northwestern are why I have been able to be successful, even in Miami."