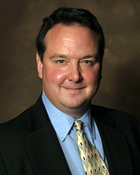 Northwestern University Feinberg School of Medicine, the Brain Aneurysm Foundation, and the Illinois State Neurosurgical Society have each established ways to honor the memory of Christopher Getch, MD, professor in neurological surgery, who unexpectedly passed away on January 9.
Gifts made to the medical school in memory of Getch will support the Christopher Getch Memorial Lecture, an annual presentation given during the residency graduation program for the Department of Neurological Surgery. The Illinois State Neurosurgical Society will be hosting a fundraiser in the coming weeks to honor Getch's memory and to create a fund to support research opportunities in neurosurgery in his honor.
"The establishment of these funds will benefit our residents and I think they are something Chris would be proud of," said Hunt Batjer, MD, chair of the Department of Neurological Surgery.
Getch spent his entire faculty career at Northwestern, joining the medical school in 1996 as an assistant professor. He was twice promoted, to associate professor in 2005, and professor in 2010. At age 50, Getch was considered one of the country's leading neurosurgeons and was president of the Congress of Neurological Surgeons from 2010 to 2011 and a former president of the Illinois State Neurosurgical Society.
"Like so many others, we were devastated to hear of the passing of Chris Getch," said Christine Buckley, executive director of the Brain Aneurysm Foundation. "Dr. Getch was a talented surgeon and inspiring leader who dedicated his career to the care and treatment of those patients with cerebrovascular disease, including many with brain aneurysm. He will truly be missed."
To honor his memory, the Brain Aneurysm Foundation Medical Advisory Board and Board of Directors have established the Christopher C. Getch, MD, Chair of Research. This chair will benefit research being done for the early detection, improved treatment, and technological advances that will ultimately improve outcomes for patients with brain aneurysms.