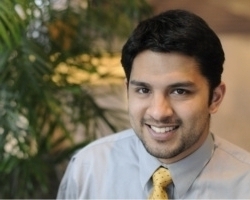 Victor Roy, a second-year medical student at Northwestern University Feinberg School of Medicine and member of the Honors Program in Medical Education, was awarded a Gates Cambridge Scholarship to pursue a PhD in sociology. Gates scholars are outstanding students who show intellectual ability and leadership capacity, and possess a commitment to improving the lives of others. Gates Cambridge Scholarships are awarded to applicants from outside the U.K. to pursue a postgraduate degree in any subject at the University of Cambridge.
Roy plans on using his scholarship to study the role of community health workers in resource-limited settings and to discover how these communities can be mobilized to address health challenges around the world.
"I am grateful for all the people who have supported me around the world and at Feinberg. I am excited to bring sociology and medicine together through this opportunity," said Roy. "I have an important responsibility to use all the resources that are available to me through the Gates Cambridge Scholarship to really create a difference."
As a political science undergrad, Roy was a founding member and first full-time executive director of GlobeMed, a network of university students that partner with grassroots organizations around the world to improve the health of people living in poverty. Since its origin at Northwestern, GlobeMed now involves students from 46 chapters at universities across the U.S. Before starting at the medical school, Roy pursued a master's degree in modern societies and global transformations at Cambridge. While at Cambridge, he studied access to treatments for patients with drug-resistant strains of tuberculosis.
"I realized that health isn't just about medicine, but also about power. Sociology gives me a different set of tools to challenge the status quo and affect change," he said.
Influenced by his grandfather, a rural doctor in India, Roy continued his interest and passion for making a difference for vulnerable populations by getting involved in the Center for Global Health as a student at Feinberg. He chairs the center's Student Committee on Global Health, a group that advises center leadership on further development of its programs.    
Roy spent this past summer in Liberia working with Tiyatien Health, which supports community health initiatives by training community members to serve as frontline health workers, delivering comprehensive home-based medical and social services to rural areas.
"Students like Victor represent so well the qualities of leadership and intellectual initiative we are attracting to Feinberg," said Raymond Curry, MD, vice dean for education. "He also sets an example for all of us with his commitment to serving a broader community and his focus on providing care to underserved populations."