Seifert, Davis Named Medical Faculty Council Mentors of the Year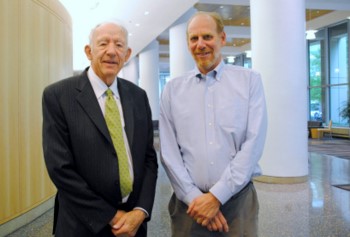 (L-R) The Medical Faculty Council 2011 Mentor of the Year awards honored A. Todd Davis, MD, professor emeritus in the Department of Pediatrics, and Hank Seifert, PhD. professor in the Department of Microbiology-Immunology.
The Northwestern University Feinberg School of Medicine Medical Faculty Council (MFC) – a group of faculty representing all 26 medical school departments – honored Hank Seifert, PhD, and A. Todd Davis, MD, with 2011 Mentor of the Year awards at a recognition ceremony on September 9. The annual awards recognize two outstanding faculty members who have demonstrated unselfish commitments to fostering the professional growth and development of their colleagues.
"We are honored to have Drs. Seifert and Davis working with us here at Feinberg; it is clear from their nominations, that the people they have worked with and mentored think the world of them," says Anne Laumann, MBChB, professor in the Department of Dermatology and 2011-12 president of MFC.
Seifert, professor in the Department of Microbiology-Immunology, is honored to be recognized by his peers for helping them to achieve their goals ― an aspect of his role that he truly enjoys.
"I assist my colleagues with choosing a direction, but they really ensure their own success," says Seifert, whose nomination for Basic Science Faculty Mentor of the Year was supported with numerous letters sent by colleagues like Alan Hauser, MD, PhD, associate professor of microbiology-immunology and infectious diseases.
Says Hauser: "Hank has a long history of successful mentorship involving graduate students, postdocs and, in particular, junior faculty. My colleagues and I have benefited from his thoughtful career advice, careful editing of grant proposals, and insightful research recommendations. Hank's consistent commitment to mentoring has been selfless and effective, making him a deserving recipient of Mentor of the Year award."
Clinical Mentor of the Year Davis, emeritus professor in the Department of Pediatrics, shares his award with all of his former mentors who, he says, taught him what it means to be a great leader.
"I try to point out opportunities that I believe will benefit my trainees; I also try to cheer them along when they feel that their work isn't shaping up exactly as anticipated," Davis says. "Helping others is an important value in my life. It's gratifying to see young faculty mature over time."
Robert Listernick, MD, professor of pediatrics, nominated Davis for Mentor of the Year honors after years of comradeship.
"Dr. Davis was essential at every critical time in my life, always offering me gentle, to the point advice," says Listernick, who also shared a few of Davis' well known sayings, including "Be hard on the issues but easy on the people."
To supplement their nominations, both awardees received numerous letters of support from past and current colleagues. Although Seifert and Davis came out on top this year, MFC President Laumann insists that they were among a talented and well-respected group of nominees.
"The Mentor of the Year awards are given to faculty who showcase the characteristics of an ideal mentor," Laumann says. "Both Drs. Seifert and Davis produce outstanding work and encourage others to do so."