Student Group Action for Young Athletes in Chicago Offers Sports Medicine Care to North Side Teens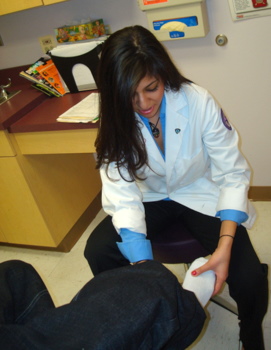 Second-year feinberg student Anita Goyal, past president of the student-led Action for Young Athletes in Chicago, performs a sports medicine physical exam on an Uplift Community High School student.
Members of the Northwestern University Feinberg School of Medicine student group Action for Young Athletes in Chicago (AFYAC) help ensure that Chicago youth remain active throughout the year. Twice a month, sports medicine physicians, physical therapists, and medical students volunteer at Uplift Community High School on the city's north side, providing care to teens who have limited access to clinicians with sports medicine experience.
"Whether they play football, soccer, or break dance, the athletes at Uplift are so energetic and passionate about sports," says Anita Goyal, a second-year medical student and past president of AFYAC. "They keep me on my toes ― challenging me to effectively communicate with them on the issues they face and helping them to reach their goals."
In addition to scheduling volunteers for the Uplift Community Sports Clinic, AFYAC board members organize free, annual, pre-season summer physicals for hundreds of Chicago Public School youth. The club also created Performance Education Sessions, a program designed to teach high school teams about topics like hydration, nutrition, alcohol, and injury prevention.
"Performance Education Sessions have allowed us to promote health and wellness in a non-clinical setting," Goyal says. "The whole experience has made my education tangible; it has given me the ability to apply my knowledge and to see the potential impact I can have in the community."
Goyal works closely with the group's faculty sponsors Cynthia LaBella, MD, associate professor in the Feinberg Department of Pediatrics and medical director of the Institute for Sports Medicine at Children's Memorial Hospital (CMH), and Cynthia Mears, DO, associate clinical professor of pediatrics and medical director of Uplift School Health Center at CMH. Together they advocate for grants and sponsorships to support the clinic, and promote it as a model for other high schools and medical professionals.
LaBella and Mears say the clinic offers Feinberg students an opportunity to learn how to practice in a community with limited resources. Students gain exposure to the fundamentals: clinical and diagnostic skills, presentation techniques, the team-based approach to medicine, and patient advocacy. They also learn about treatment options like rehabilitation exercises and injury prevention strategies for sports-related injuries.
"Feinberg students serve as role models and teach the youth how to prevent further injury and become educated consumers of healthcare," says Mears.
This free clinic proves crucial to Uplift Community High School and its numerous sports teams. With no athletic trainer, there is no one available to care for injured athletes, so injuries are rarely rehabilitated.
"This programs helps bring much needed care to Uplift youth," says LaBella. "We all leave the clinic with the feeling that we've made a big difference in the lives of these athletes."