Eric G. Neilson, MD, to lead Northwestern University Feinberg School of Medicine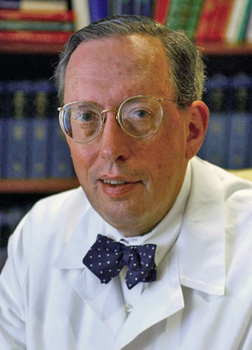 Eric G. Neilson, MD, has been appointed dean of Northwestern University Feinberg School of Medicine and vice president for medical affairs, effective September 1.
Eric G. Neilson, MD, the Thomas Fearn Frist Senior Professor of Medicine at the Vanderbilt University School of Medicine, has been appointed dean of Northwestern University Feinberg School of Medicine and vice president for medical affairs, effective September 1. He has also been appointed the chair of the board of Northwestern Medical Faculty Foundation.
"President Schapiro and I are delighted that Dr. Neilson, who is a proven successful leader, accepted our offer," said Northwestern Provost Daniel Linzer. "We look forward to having him take on his new roles at Northwestern."
Dr. Neilson will be the Lewis Landsberg Dean of Feinberg.
Dr. Neilson comes from Vanderbilt University, where he chaired the Department of Medicine from 1998 to 2010. He led the largest department at Vanderbilt through a growth strategy that helped triple the size of the medical center into a $2.4 billion enterprise. Under his departmental leadership, clinical practice revenues increased almost 300 percent, research funding from the National Institutes of Health increased to $135 million, and the department's faculty grew from 270 to nearly 650. As chair, Dr. Neilson nurtured an active gifts and giving program and tripled the department of medicine's endowment. In 2010, Dr. Neilson was awarded the Robert H. Williams Award from the Association of Professors of Medicine for outstanding leadership as the chair of an academic department of internal medicine.
"My wife and I are delighted to join the Northwestern family and look forward to our move to Chicago," Dr. Neilson said. "The Feinberg School of Medicine has a storied tradition in academic medicine. Its long association with Northwestern Memorial Hospital, Children's Memorial Hospital, and the Rehabilitation Institute of Chicago, as well as other affiliated programs, offers Chicagoans access to extraordinary medical care, the best as any in the country. As a research-intensive institution, Feinberg also ranks among the top environments for medical science that informs patient care. It is a school dedicated to national achievement and will continue to provide new leaders for American medicine from its ranks of superb students, trainees, and faculty. Improving the health of people will be its number one priority."
In addition to his successes as department chair, Dr. Neilson continues to teach, keeps an active research laboratory, and has been a champion for female physicians and scientists. He remains active as a teacher of clinical medicine and has been involved in the training of 126 house officers and 292 graduate students or post-doctoral fellows annually. He helped initiate the Vanderbilt Prize, which honors women in science, and during his tenure as chair, he increased the number of female faculty from 71 to 198. As a distinguished leader in American nephrology, Dr. Neilson has had an active research program in the area of epithelial-mesenchymal transition, where mature cells transition into new kinds of cells under the stress of injury and disease.
Dr. Neilson came to Vanderbilt in 1998 after 23 years at the University of Pennsylvania School of Medicine, where he served as the C. Mahlon Kline Professor of Medicine and Pediatrics, the director of the Penn Center for Kidney and Hypertensive Diseases, and a member of the Institute for Human Gene Therapy and the UPHS Cancer Center.
"I am very pleased to welcome Dr. Neilson to the Northwestern Medicine community. We look forward to working closely with him as we continue the important efforts by the University and its affiliated hospitals to build a great academic medical center," said Dean M. Harrison, president and chief executive officer of Northwestern Memorial HealthCare, one of Feinberg's hospital partners.
Dr. Neilson will succeed J. Larry Jameson, MD, PhD, who served in the role from 2007 to 2010, and Jeffrey Glassroth, MD, who has served as interim dean since January 1.
"President Schapiro and I would like to thank Interim Dean Jeffrey Glassroth for his outstanding service, the search committee, and particularly co-chairs Amy Paller and Patricia Spear for the committee's excellent work," Linzer said.
Members of the media, please contact Marla Paul via e-mail or at (312) 503-8928 for more information about this story.