Doctor of Medicine/Master of Arts in Medical Humanities and Bioethics Program
Combining the study of medicine and social science

Many Northwestern University Feinberg School of Medicine students choose to enhance their MD education by simultaneously working toward a master's degree that concentrates on the legal, historical, philosophical, and cultural contexts of medicine. The combined Doctor of Medicine/Master of Arts in Medical Humanities and Bioethics (MD/MA) Program offered by the medical school emphasizes the interdisciplinary study of medicine and bioethics through the humanities and ethics-focused social sciences.
"Our program is the only one of its kind," says Kathryn Montgomery, PhD, Julia and David Uihlein Professorship in Medical Humanities and Bioethics and director of graduate studies for the program. "There are no other interdisciplinary bioethics MA programs in the United States. Our students also benefit from faculty that possess national reputations."
The program is designed to work in conjunction with the MD course load, and students can complete the degree in four or five years. The curriculum consists of eight courses, two tutorials, and a thesis.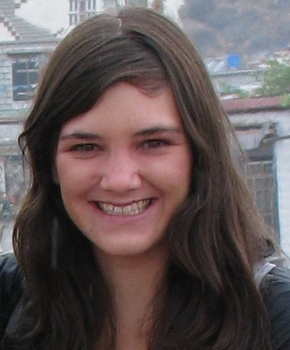 M2 Alexandra Goodwin appreciates the ethical and legal grounding offered by the combined doctor of medicine/master of arts in medical humanities and bioethics degree.
Alexandra Goodwin, who will become a second-year medical student this fall, earned her bachelor's degree in American Studies, but knew that she wanted to pursue a career in medicine. After undergrad, Goodwin taught high school students in Washington DC and New York. She later completed a post baccalaureate pre-medical program to fulfill basic science prerequisites for medical school.
"Feinberg was my first choice because of the MD/MA program," Goodwin says. "We have the ability to complete both degrees in four years. I wouldn't have sought the dual degree had it not been for the manageable time commitment."
A medical education paired with humanities seminars and discussions appealed to Goodwin after a three-year break from her liberal arts undergraduate studies.
"I can't imagine not having a grounding in medical ethics, legal issues, and policy. It enables us to learn the basic sciences with a greater idea of context," she says.
For MD/MA students, the social sciences become a part of everything they do. Goodwin, for example, plans on pursuing humanities-based research. This summer she is assisting in a community health and oral history project as part of a global health program in East Africa. Ultimately, Goodwin hopes to specialize in maternal and/or child health care.
"I'm proud to be part of an MD program that integrates humanities education in concert with the basic sciences," Goodwin says. "I think it will make me a better physician and become a better contributor to the community that I serve."
For more information on the MD/MA program, please visit their web site.