Northwestern Chicago Out Network, Safe Space Training Supports LGBT Community at Feinberg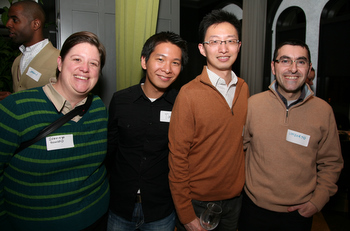 The Northwestern Chicago Out Network exists to support the lesbian, gay, bisexual, and transgender (LGBT) community at Feinberg. members meet four times per year to socialize and discuss ways in which the medical school could grow its diversity.
The Northwestern Chicago Out Network exists for the support of lesbian, gay, bisexual, and transgender (LGBT) faculty, staff, students, residents, and fellows. The group boasts 210 members and counting – participants from Northwestern University Feinberg School of Medicine, the graduate school, affiliated hospitals, and clinics.
The group convenes quarterly at locations within a few blocks of Northwestern's Chicago campus. At these events, members socialize and consider ways in which the Feinberg community could grow its diversity.
"Communities foster a sense of belonging, which is something we all need to thrive," says Sunny Nakae, MSW, director of the Office of Diversity and a lead founder of the program. "One of the great things about the network is that it brings together a very diverse cross-section of our institution and affiliates."
Mark Graves, a second-year medical student, joined the group as an ally.
"Many times in my life, I have felt uncomfortable, repressed, disrespected, or just outright depressed because of commentary made by others," Graves says. "Therefore, it is exceptionally important to me that people feel comfortable and safe revealing their history and living their lives as they please."
Other members, like Wayne H. Franklin, MD, MPH, associate professor in the Department of Pediatrics, joined the Out Network to give a voice to members of the LGBT community at Northwestern.
"It is important to have social networks at work and in the community to ensure that our viewpoints are heard," he says.
As a member of the network, Franklin hopes to serve as a mentor and role model for medical students, residents, fellows, and junior faculty, showing early-career physicians that they, too, can mesh their social and work lives.
"Allowing individuals early in their career to see the welcoming environment that we have here at Feinberg is crucial to their growth as individuals and as physicians," says Franklin.
Safe Space Training
The Office of Diversity also hosts three interactive LGBT Safe Space training sessions each year on the Chicago campus. The program provides attendees with an avenue for becoming more familiar with LGBT issues, including health and medicine issues, so that they may better address them in the medical school's curriculum and programming.
"We cover terminology, theory, disparities, and inequalities in the healthcare and legal systems. We also provide an opportunity for attendees to become allies," says Nakae.
"We want to promote a more hospitable environment at Northwestern by establishing an empathetic and knowledgeable network that acts as an ally to LGBT individuals within the University community," she adds.
Recognizing Diversity Efforts
At the University's 2011 LGBT Resource Center Spring Awards and Lavender Graduation, several members of the medical school were recognized for their efforts on behalf of the LGBT community, including:
Sunny Nakae, MSW, director of the Feinberg Office of Diversity: Wendy R. Cutler Memorial Above and Beyond Award for consistently going above and beyond the call of duty to ensure the success of the LGBT community and its programs.
Kara Malone, MD '11: Vince McCoy Honorary Leadership Award for showing excellent leadership skills within the LGBT community, as well as a strong commitment to their academics, campus involvement, and community service.