Lewis Landsberg Society Gives Voice to PA Students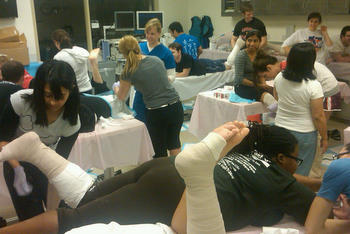 Physician Assistant students participate in a casting workshop as part of the Lewis Landsberg Society's medical training activities.
The Lewis Landsberg Society offers students in Northwestern University Feinberg School of Medicine's Physician Assistant (PA) Program the opportunity to work alongside their classmates to explore professional interests and development, student government, and community engagement activities.
"The society was developed to give our students a voice at the program, local, state, and national level to discuss issues that are important to them," says James Van Rhee, MS, PA-C, associate professor in the Department of Family and Community Medicine and director of the PA Program. "It also serves as a platform for engaging with peers in community service and medical training activities."
Members of the inaugural Class of 2012 have already made a great deal of progress since launching the society — hosting monthly all-class meetings to determine goals and establish the roles of the society's leadership. The group has also introduced partnerships with the Howard Brown Health Center, a clinic where students can go to volunteer and learn from physician assistants who care for underserved patients in Chicago.
"We've been working on ways to enrich the academic experience and develop relationships with the greater Feinberg community through shadowing programs and health clinic partnerships," says PA student Easton Beshears, president of the society.
While the inaugural class will remain members of the society next year, officers will soon transition leadership to members of the entering Class of 2013. The future of the organization mixes first- and second-years, so the society will soon offer students the ability to network and socialize across classes. Later, the society will also take on the role of alumni relations — linking current students with PA graduates for mentorship.
For more information about the PA Program, visit the program web site.