Feinberg Students Offer Services to Underserved through Alternative Spring Break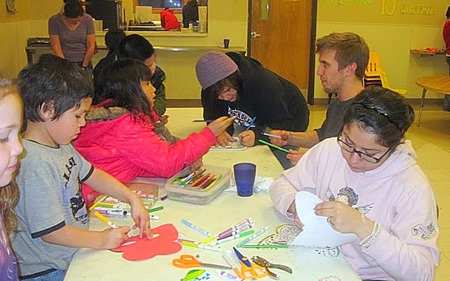 During Alternative Spring Break, Feinberg students
served children and young adults
through the Cheyenne River Youth Project.
The Cheyenne River Indian Reservation, located in Eagle Butte, S.D., sits within Dewey County, the poorest county in the United States. Working with members of the Cheyenne River Youth Project, Northwestern University Feinberg School of Medicine students helped serve the children and young adults of this region through an annual Alternative Spring Break (ASB) experience.
First-year medical students and ASB presidents Alex Friedman and Matt Rowland managed the planning of the March 2011 trip. During their weeklong experience, students showcased their skills while volunteering in the reservation's teen and health centers.
"We provided a safe, positive environment to play with kids and teens," says Friedman. "Also, we were exposed to a great deal of diversity in primary care and learned what it's like to be a physician in a resource-limited community."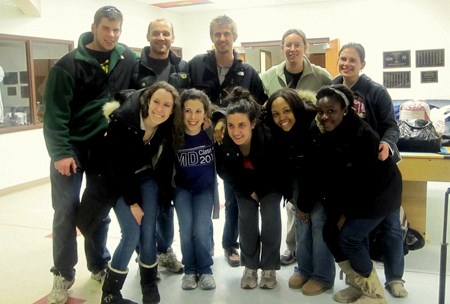 Ten first-year Feinberg medical students spent spring break gaining experience with teen outreach and healthcare diversity.
Feinberg students also spent time organizing supplies, rebuilding furniture, and cleaning the facilities, as well as leading programs that they designed prior to the trip. During a popular restaurant night, students put out white tablecloths and provided the youth with five-star treatment, acting as waiters and serving them hors d' oeuvres. Students also hosted a college night for older teens, exposing the youth to potential careers after high school and offering tips for resume building and more.
"There are limited job options on the reservation or in the area, so youth have little idea what they want to do with their life after they complete high school," says Rowland. "By the end of our trip, though, we felt that we had made an impact on the youth in regards to the importance of career-focus, healthy eating, and exercise."
ASB was initiated by Blayne Sayed, a graduating MD/PhD student who volunteered at the reservation for a year after high school and several summers following. Sayed now sits on the reservation's advisory council and continues to foster relationships within its community.
With the help of Elisabeth Pordes, MD '10, MPH '10, and Nidhya Navanandan, MD '10, BA '06, both now pediatric residents, the ASB student organization launched in 2007. Each year, the Office of Diversity helps to fund the trip for approximately 10 Feinberg students.
"American Indians are one of the most underserved and underrepresented groups in the United States, but because they are relatively small in number, they receive little attention from mass media," says Sunny Gibson, MSW, director of the diversity office. "Feinberg student outreach to American Indian communities proves vitally important."