AMWA, WFO Host Mentoring Tea to Advance Women in Medicine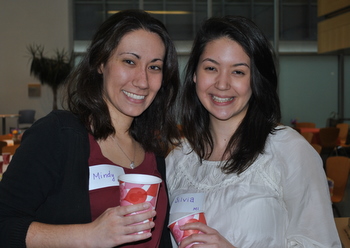 (L-R) First-year medical students Mindy Hoffman and Silvia McCandlish serve as co-presidents of Feinberg's chapter of the American Medical Women's Association. The group worked
with members of the Women's Faculty Organization to
organize the mentoring tea.
The Northwestern University Feinberg School of Medicine chapters of the American Medical Women's Association (AMWA) and the Women's Faculty Organization (WFO) hosted a mentoring tea on April 20 to connect female medical and physician assistant students with female faculty members.
Dozens of students and faculty members participated in the event, which supports the WFO's focus on career development, as well as AMWA's mission to advance women in medicine and improve women's health education in the community.
During the event, students chatted with female physicians and researchers on a range of topics, from choosing a specialty to balancing work and family life. Throughout the year, students have an opportunity to reconnect with these mentors and gain further advice about being a woman in the medical profession.
First-year medical students Mindy Hoffman and Silvia McCandlish serve as co-presidents of Feinberg's AMWA. They work closely with AMWA member and WFO liaison Elizabeth Wong, also a first-year student, to organize events like the mentoring tea in order to help connect their peers with strong female role models.
"At this stage, students are trying to learn which specialty fits best with their interests and personalities, so getting advice and information from faculty mentors is crucial," says Hoffman, a candidate for Feinberg's joint MD/Master of Arts in Bioethics and Medical Humanities degree.
"The relationships we have with organizations like the WFO are so important in providing a sense of community and support for women pursuing careers in medicine," adds McCandlish.
The event also proves beneficial to faculty members, as they are able to network with other faculty and impart wisdom onto the younger generation of female physicians, physician assistants, and researchers.
"Medical and PA students are often influenced by the older colleagues they encounter," says WFO co-chair Aruna Ganju, MD, associate professor in the Department of Neurological Surgery. "I think that we are able to pass on some of our lessons learned to the younger generation. It also allows us to gain some perspective."