Feinberg Invites Accepted Students to Take a Second Look
During a Second Look tour, staff member Brian Florek (left) taught prospective student Pietro Bortoletto how to perform an intubation using the training tools available in the Simulation Technology and Immersive Learning Center.
The Office of Admissions at Northwestern University Feinberg School of Medicine hosted its annual Second Look event April 14-15. The program welcomed individuals accepted to the Class of 2015 — offering these prospective students an opportunity to learn more about Feinberg before making their final decisions about where to attend medical school.
"Regardless of where you complete your medical training, the next years of life are sure to be invigorating," said Interim Dean Jeff Glassroth, MD, while urging students to push the boundaries of medicine and science. "The Class of 2015 enters medical school at a significant time for healthcare in America. Your chosen profession has never before afforded the ability to do so much good."
Second Look guests engaged in small group sessions and panel discussions outlining Feinberg's curriculum, joint degree programs, and community health clinics, as well as opportunities for global health and student research. Tours of the Simulation Technology and Immersive Learning Center, Northwestern Memorial Hospital's Prentice Women's Hospital, and the Ann & Robert H. Lurie Children's Hospital of Chicago, showcased the many Chicago campus offerings.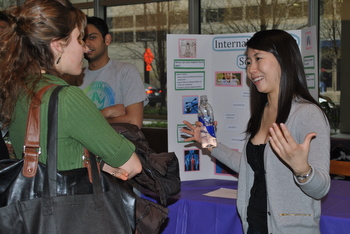 First-year Feinberg student Chio Yokose (right) talks to a prospective student about the Internal Medicine Society during the student organizations fair at Second Look.
Through an interactive presentation, third-year student Nitin Yerram introduced attendees to student government, student organizations, and student life at Feinberg.
"Participation in these activities allows you to form a cohesive class and an incredible support network of peers," said Yerram, who also highlighted the medical school's colleges and societies, which divide each class into smaller groups for study and networking.
The Office of Diversity also sponsored several programs for guests. An event on Thursday evening gave about 35 underrepresented students the chance to connect with one another and with Feinberg's diverse community of faculty and current students. The following night, students were invited to a social event hosted by the Northwestern Chicago Out Network, a community of lesbian, gay, bisexual, and transgender individuals and allies from the University and affiliated hospitals.
At the close of Second Look, Anuj Shah, a senior at the University of Michigan, was thrilled with his decision to attend and said it positively influenced his upcoming decision.
"I didn't know a lot about Feinberg or its training tools and facilities," said Shah. "I toured both the hospital and the simulation center and am incredibly impressed with the technology available to students. Seeing these sites and hearing more about student life was really exciting."