Northwestern Highlights International Programs, Collaborations
at Global Health Week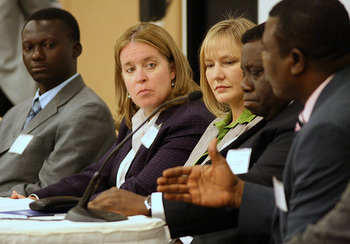 Physicians and researchers from Northwestern and its partner institutions across the world shared research opportunities and global health strategies at the University's first-ever Global Health Week.

Northwestern University held its first-ever Global Health Week April 5-8 on the Evanston and Chicago campuses. The event welcomed almost 40 institutional partners from across the globe — physicians and researchers from more than a dozen countries, including Chile, France, India, and Nigeria. Through a series of talks and networking events, the University introduced foreign and domestic guests to its global health efforts and to countless opportunities for expanding collaborations.
"Global Health Week is a celebration of many years of collaboration with leading institutions worldwide," said Robert Murphy, MD, John Philip Phair Professor of Infectious Diseases and director of the Center for Global Health at the Feinberg School of Medicine. "We all know that highly multidisciplinary and interdisciplinary partnerships are necessary to curb inequities in healthcare."
Murphy and others outlined the breadth of global health classes and programs at Northwestern. These resources span a multitude of schools, from the business school to arts and sciences to the medical school, and include clinical affiliates Northwestern Memorial Hospital, Children's Memorial Hospital, and The Rehabilitation Institute of Chicago.
"With the increased development of sustainably-fundable programs, the future of global health here is bright," said Murphy.
Feinberg Interim Dean Jeff Glassroth, MD, and Rex Chisholm, PhD, vice dean for scientific affairs and graduate studies at Feinberg, provided an overview of the medical school's areas of strength, particularly in research fields like genomics, transplantation biology, and medical simulation.
Raymond Curry, MD, vice dean for education at Feinberg, focused on the medical school's educational assets and outlined three domains that he hopes students excel in as a result of global health experiences: understanding the burden of global diseases, traveler's medicine, and immigrant health.
"Regardless of where they ultimately practice medicine, our students must be able to care for a patient population that either travels abroad or has migrated to this country from abroad," Curry said.
During the week's programs, experts from teaching hospital and universities abroad were invited to provide insights into the research and public health issues facing their country and to draw attention to educational and research opportunities there. Talks centered on a variety of topics, including global medical education, maternal and child health, HIV/AIDS research, clinical and laboratory research, and operations research in global health delivery programs.
Joia Mukherjee, MD, MPH, chief medical officer of Partners in Health, an international medical non-profit, presented the keynote address. In her speech, Mukherjee focused on the human rights aspect of HIV treatment and on the implementation of complex health interventions in resource-poor settings.
Global Health Week 2011 organizers include the Center for Global Health, the International Program Development Office, the Center for Innovation in Global Health Technologies at the Robert R. McCormick School of Engineering and Applied Science, and the Global Health Initiative at the Kellogg School of Management.